Learning Through Experience
Study Abroad
The Study Away programs support experiential learning for UIS students across the United States and around the world.
Internships
Internships enable students to obtain real-world experience in their area of study. Students earn credit by completing a course concurrently with a field experience: either an internship (IPL 300) or a project (IPL 301).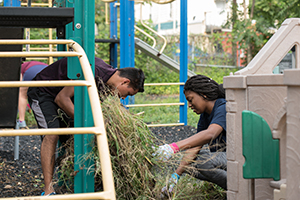 Service-Learning
Service-Learning is an opportunity for students to provide community service to local non-profit agencies while receiving college credit. It offers an opportunity to explore the connections of academic theory and the practical needs of the community while expanding overall knowledge of community-based problems.
Prior Learning Assessment
Experiential and lifelong learning is learning that has occurred outside of a traditional classroom. Students may obtain college credit at UIS by presenting their experiential learning for assessment in a portfolio. The program guides students through the development of this experiential learning portfolio. Students may create additional portfolios for a total of up to 16 credit hours of experiential learning, depending on the academic program.
Learning & Living Communities
Learning and Living Communities provide a positive environment through which students can take the first steps toward a lifelong commitment to community involvement.
Be the Change
Help the Environment
UIS will be a role model in promoting campus environmental sustainability. We believe that we are part of a global community with limited resources and that our choices can positively affect that community and campus life. Find out more about programs and how to get involved.
Help Others
UIS provides many opportunities for learning and leading by serving. Our goal is to foster a life-long commitment to community within all UIS students, faculty, and staff and our mission is to link the UIS community to service and civic engagement opportunities in central Illinois and beyond.