​The office of Parking Operations exists to make sure traffic flows efficiently on our central Illinois campus and to provide adequate parking facilities for faculty, staff, students, and visitors. All matters relating to parking, including vehicle registration, parking fees, signs regulating parking, and the enforcement of the vehicle and parking regulations are handled within this department.
Parking Permit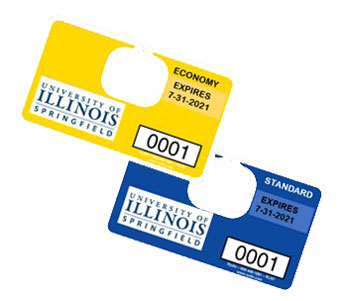 All Students, Staff and Faculty must obtain a current Parking Permit for their vehicle(s) when parked on University property. University parking permits are valid for specific lots and/or a specific parking space. Permits are not valid for parking in spaces with individual meters. Students, Staff and Faculty must not transfer, loan, duplicate, trade, nor sell their respective parking permit. ​
How to Apply for your Parking Permit
Student parking hang tags for the 23/24 academic year will be available for purchase online beginning the second week of August.
No person shall register a vehicle, or receive a Parking Permit for a vehicle, unless he/she completes the Parking Hang Tag Application form online. Once the online purchase is complete, the Hang Tag permit receipt and a photo ID must be presented to the Parking Operations Office, in order to receive the appropriate Hang Tag. No hang tags will be sold to individuals with "dealer" license plates.
How to Pick up Your Parking Permit
An individual must contact Parking Operations at (217) 206-8502 to schedule an appointment to pick up their Parking Permit. Please bring a photo ID and your electronic receipt.
How to Pay Your Parking Violation
ALL inquiries regarding the payment of parking tickets must be directed to the Parking Operation's office. You may send an email to parking@uis.edu or contact the office at (217) 206-8502. Please make sure to leave a detailed message at this number should the office not be available to answer your call.
If a violation is not paid or appealed within 10 calendar days from the date of issuance, the violation will be processed as a debt owed to the university. Late fees and interest may apply.
---
Parking Maps
Campus Parking Map (pdf)
Visitor Parking Map (pdf)
---
Hours of Operation
Please contact Parking Operations at (217) 206-8502 to schedule an appointment.
Contact Parking Operations
Office location: BSB 43 (near the campus' Motor Pool and Health Clinic)
Phone: (217) 206-8502
Email: parking@uis.edu