Residential Student Parking
A residential parking hang tag authorizes parking in a specific residential parking lot. It does not authorize parking in all residential parking lots.
Residential parking hang tags are also valid in lots I-South and J.
Residential hang tags are not valid in Economy (yellow) or Standard (blue) non-residential campus lots.
PERKS spaces are reserved for those who have purchased a PERKS hang tag.
Students may purchase a PERKS space or a hang tag for non-residential Economy or Standard parking lots by contacting Parking Operations at (217) 206-8502 or parking@uis.edu.



West Campus Housing (WEST)

Authorizes parking in:
-Pennyroyal
-Foxglove
-Northern Half of the Marigold and Trillium parking lots
-Lot I-South*
-Lot J*
*Parking in Lot I-South and Lot J is prohibited from 1 am - 6 am
Lincoln Residence Hall and Founders Residence Hall (RH)

Authorizes parking in:
-Southern Half of the Marigold and Trillium Court parking lots
-Lot I-South*
-Lot J*
*Parking in Lot I-South and Lot J is prohibited from 1 am - 6 am



East Campus Housing (EAST)

Authorizes parking in:
-Sunflower
-Clover
-Bluebell
-Larkspur
-Lot I-South*
-Lot J*
*Parking in Lot I-South and Lot J is prohibited from 1 am - 6 am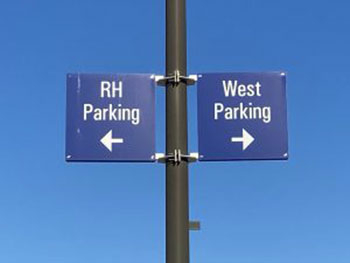 ---
Hours of Operation
Monday - Friday, 9:00 am to 4:00 pm