UIS provides a unique, student-focused educational experience that emphasizes learning in and outside of the classroom. Every measure has been taken with the utmost care and consideration to support safety for living, learning, working and training at UIS. We are United In Safety.
Fall 2021 Vaccination Policy
Academics/Student Life
Fall 2021 Course Delivery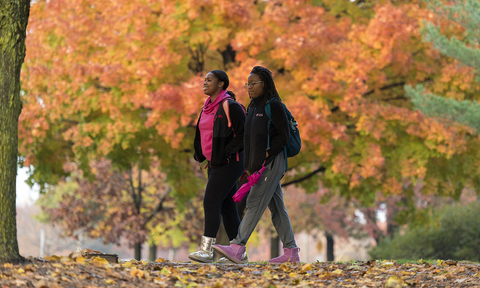 Finalized course modalities for Fall 2021 will be communicated in mid-July. To the extent practical, UIS will work with individual students who are not vaccinated and do not qualify for an exemption to identify a path forward to continue their academic progress off campus. Students are encouraged to work with their academic advisers to map out a plan if they do not intend to comply with the campus vaccine requirement and do not qualify for an exemption.
Academic Resources
Communication Hub
Town Hall Briefings
More Town Hall Briefings on Chancellor Whitney's site
---
COVID-19 Contacts
COVID-19 Saliva Testing for Non-Symptomatic Employees and Students
Questions: Contact Bethany Bilyeu
Questions?
Contact our COVID-19 team
Safety in Action
Since March 2020, the UIS campus community has banded together to promote safety and wellness. Our commitment to one another means students can continue to pursue their educational and personal goals.
Leaders in Online Learning
Since 1997, the Center for Online Learning, Research and Service (COLRS) has promoted and supported the university's development of online and blended learning. Our mission is to provide leadership in the development of effective practices, advancement of technologies and the dissemination of research that will improve faculty, student and institutional effectiveness online.
We've created a Remote Learning Orientation portal packed with tools and resources to help students better navigate their learning experience. Simply log in with your UIS NetID.
History of Online Learning at UIS