Spring 2022 Outdoor Adventure Trips
Skiing/Snowboarding –Snowstar Winter Sports Park – February 25th: Spend a day skiing or snowboarding at Snowstar in Illinois.
UIS Students: $25.00 Registration opens 1/24 at 9:00am
Hiking at Carpenter Park – April 2nd: Hike along the Sangamon River and check out the wild life. You could see deer, hawks, or even an eagle.
UIS Students: Free Registration open 3/21 at 9:00am
Canoe/Kayak at UIS Field Station – April 9th. Launch from the UIS Field Station and spend the afternoon paddling around Lake Springfield. Be on the lookout for deer, turtles, swans, and other native wildlife.
UIS Students: Free Registration opens 3/28 at 9am
Horseback Riding at Riverside Stables – April 8th: Enjoy a scenic trail ride along the Sangamon River. No experience is needed. Riverside Stables asks that all riders submit their height and weight so they can be matched with the appropriate horse. There is a 200 pound weight limit.
UIS Students: $20.00 Registration opens 3/21 at 9am
Canoe/Kayak on Sugar Creek – April 30th Enjoy exploring this waterway just south of Lake Springfield, where wildlife is abundant.
UIS Students: Free Registration opens 4/18 at 9:00am
*A UIS Student is defined as a currently enrolled student being assessed the Rec Center portion of the General Fee.
If you have any questions concerning Outdoor Adventures trips please contact the office of Campus Recreation at 217-206-7103.
Outdoor Adventures Equipment Rental
If you would like to plan your own adventure you can rent the equipment you need from Campus Rec. Click the following link to see a list of the equipment available for rent. Outdoor Adventures Equipment Rental Price (pdf)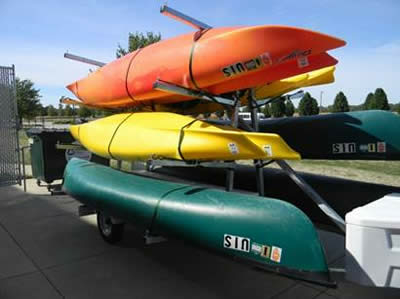 *Please note that you do not need to rent equipment if you are participating in an Outdoor Adventures trip offered by Campus Rec
Equipment Rental Policies and Procedures
Any Campus Rec or UIS Community Member may rent equipment from Campus Recreation. All individuals must have a valid UIS icard to rent Outdoor Adventures equipment. Payment is due at the time of the rental.
Reservations for equipment are required to ensure the equipment desired is available for rent. Reservations are made on a first-come-first-served basis.
Please contact Campus Recreation 2-3 business days before your trip to check out equipment.
It is the responsibility of the renter to inspect equipment and be sure it is all there and in good condition. If something is missing or in need of repair, a Campus Rec staff member must be notified immediately so it can be recorded before equipment is checked out. If for some reason the renter fails to inspect the equipment, he/she is held responsible for damaged or missing equipment upon its return.
Each renter must sign a Campus Rec waiver at time of rental. The renter will be held financially responsible for any damages or loss of equipment.
Times to return equipment will be established when the equipment is checked out. Returned equipment will be inspected by a Campus Rec staff member. Fines for dirty, lost or damaged equipment may be assessed.
Fines: The fee for late returns will be the cost of one day's rental for each day past the due date. Renters will incur all costs for repair/replacement of any damaged or lost items.
To make a reservation contact Campus Recreation at 217.206.7103 or by email campusrec@uis.edu. To ensure your equipment is available, please contact Campus Recreation 2-3 business days in advance.