UIS Orbit is a resource for University of Illinois Springfield employees to find important news and announcements, new hire information, human resources info, upcoming employee events and more!
Announcements
Dec 05, 2023
Dear University of Illinois System community, With the holiday season upon us, we have so many reasons to celebrate and so much to be grateful for. Our Killeen family is growing, as is the impact of the…
Dec 04, 2023
Upcoming Event Holiday Happy Hour All faculty and staff are invited to a Holiday Happy Hour from 4-5 p.m. on December 19 in the Student Union Ballroom. There will be music, drinks, and appetizers to…
Dec 04, 2023
The UIS Bookstore and Follett are happy to offer a faculty and staff appreciation coupon for the whole month of December! This is an in-store coupon, and any faculty or staff member just needs to print out the…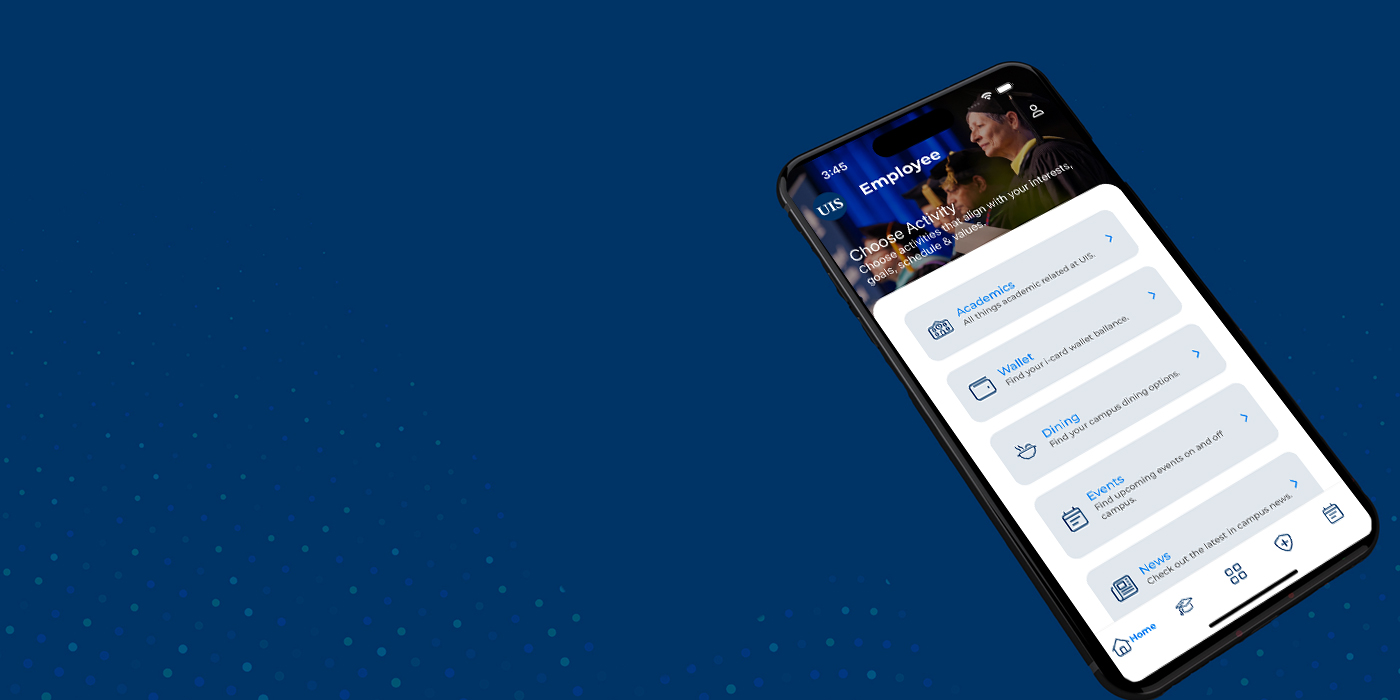 New UIS Mobile App
The new UIS Mobile app is now available for download on both the App Store and Google Play Store. Features include quick access to events, news, dining info, and safety links. Visit the UIS Mobile App page to learn more and download!
News from the Chancellor
Dec 04, 2023
12.4.23 Dear Students, Faculty and Staff, As we approach the end of another amazing year at UIS, I find myself reflecting on the journey we've shared. I want to take a moment to recognize each of you for your contributions that have led to…
Nov 27, 2023
11.27.23 Welcome back, UIS! I hope everyone had a restful Thanksgiving break spent with your favorite people. We only have a few short weeks left in the semester, and with finals approaching, let's continue to support our students and one…
Nov 13, 2023
11.13.23 Happy Monday, UIS! November has been packed full of exciting events and programming so far, and perhaps the best is yet to come: It's time for our annual Lighting of the Colonnade! At 5:15 p.m. this Friday, join me as we kick off the…
News from the Provost
Oct 25, 2023
Academic Affairs News - October 2023 From Provost Schwab Dear colleagues: It's hard to believe that we already are past the mid-point of fall semester and that some of you just submitted grades while others started second-half courses this…
Aug 30, 2023
Provost's welcome Welcome to the new academic year. For those new to UIS, like me, welcome! For those who are returning after what I hope was a restful and rejuvenating break, welcome back! We will be offering this update from the…
Aug 30, 2023
According to UIS policy, each academic year the Vice Chancellor for Academic Affairs & Provost notifies the UIS community of the names of those among the faculty scheduled for tenure review and second- or fourth-year reappointment review.…
---
See What's Cooking
Employee Recognition
Nov 30, 2023
Lisa Bowen has been named the University of Illinois Springfield Employee of the Month for November 2023. She is the classroom scheduling administrator for UIS Facilities and Services. Her nominator said she is "a…
Employee Events
-
The next Civil Service Advisory Council (CSAC) meeting is Wednesday, December 6, 2023 at 10:00 am. Below is the link to the Zoom meeting and the agenda. We will have a special presentation on the budget and fiscal…
-
🌟 UIS employees, Get Ready to APAC the House! 🌟 It's time to bring the thunder and cheer on our mighty UIS Prairie Stars! 🏀 Gather your family and join your UIS AP colleagues for an electrifying double-header…
-
Sign up for website editor training on the new uis.edu website. Training typically lasts an hour to 90 minutes and is open to all staff and students. Web Editor Training Sign Up