First-Year Applicants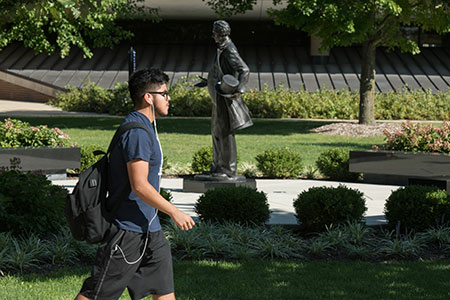 Use the application below to apply as a first-time, first-year student or as a first-year transfer student.
UIS is on the Common App! Use the button below to automatically add UIS to your Common App.
First-year applicants who are eligible for the Honors Program will automatically be reviewed by the Honors Program; no extra application is required.
All Other Applicants
Use the application below for transfer, graduate or non-degree seeking students.
---
Need Help?
Check out the How to Apply page for step-by-step instructions, or visit our Cost & Aid site for financial assistance.
Additional Requirements
Students should be sure to check specific program requirements; there may be an additional application for the program you wish to enter.
Applications for Special Programs
Online Programs & Degrees
UIS has been utilizing online learning for 20 years. Not only is this option one of great convenience for students because of its flexibility—it also provides the same quality of education students have come to expect from on-campus courses.
Applying for an online program works the same as applying for an on-campus program. Visit the Online Programs site for more information on enrolling for course, online orientation and more!