University of Illinois Springfield is dedicated to fully engaging students in the process of active teaching and learning. UIS offers degrees that are relevant to students' personal and professional success across a lifetime, and provides students with a distinctive academic experience through a cross-discipline approach to teaching, research, and outreach.
Registration
As you proceed through the registration process, it is important that you carefully read all information, terms and conditions. International students must consult with the Office of International Student Services regarding the types of courses in which they enroll, as certain types (online, off-campus, etc.) may not be allowable. If you have any questions as you proceed, do not hesitate to contact the Office of Records and Registration for assistance.
Students and Faculty can also view important records and registration information via Student and Faculty Self-Service.
Faculty
UIS faculty are known for world-class teaching. The dedicated and highly talented faculty offer personal attention to students pursuing their education. Currently, they can provide students in-person, online and remote instruction to safeguard student health. Our faculty are continuously engaged in improving their curriculum to ensure academic quality.
Read about our distinguished professors and faculty award recipients
Research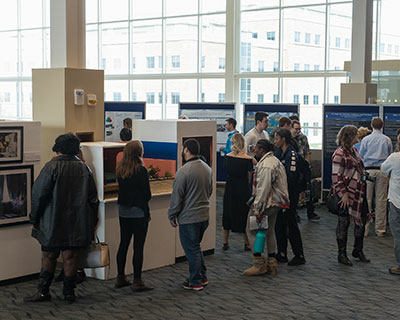 UIS enhances students' educational experience and encourages their success and professional development by providing support for student research. Undergraduate and graduate students may choose to present a short oral presentation, a poster presentation, art exhibition or performance of their work at the annual Student Technology, Arts and Research Symposium (STARS). UIS also provides students with research opportunities through the Undergraduate Research Support Program.
At UIS, faculty scholarship and teaching are realized as mutually enlivening and enriching activities. We value the scholarship of discovery, integration, application and teaching as exciting and motivating forces in the lives of our teacher-scholars. View a list of faculty research and scholarship interests.
Honors Programs
UIS' Capital Scholars Honors Program (CAP) provides a challenging, interdisciplinary educational experience where well-qualified, motivated students gain understanding and leadership skills to engage the world. The program features interdisciplinary and collaborative learning and is designed to develop student talents through small classes that encourage lively exchange between students and professors. Students learn actively, applying their skills to real community concerns. Problem solving and research skills are emphasized throughout the program.
Student Support
UIS provides support to all of our students to give a wide range of experiences that build skills for school and life. We help students succeed in a challenging, exciting and diverse global community.