Working Towards the Future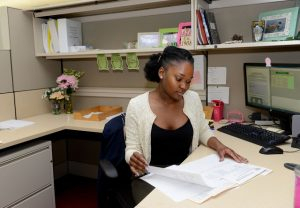 Put your liberal arts skills to work. Apply for an internship and open new options for your plans after university.
Explore job and internship opportunities at Handshake.
CLASS Academic Administration Internship
The College of Liberal Arts and Social Sciences encourages juniors and seniors to apply for our academic administration internship. Learn what happens behind the scenes to support faculty and students at the college level.
You would have a flexible schedule within regular business hours (8:30 am - 5:00 pm M-F). Also, this internship may be used to fulfill requirements in the credit-bearing IPL 300 course, which can count for ECCE Engagement or ECCE elective credit.
15 hours/week for 13 weeks (one semester): 1/30/23-5/5/23. Flexible schedule during regular business hours.
Pay: $13/hour
Mentored by the Associate Dean, the CLASS academic administration intern will learn how:
to integrate diversity, equity, inclusion, and social justice into the workplace,
to gather and interpret data and build solutions to administrative issues in the arts, humanities, and social sciences,
to communicate effectively across multiple media with diverse faculty, staff, students, and administrators,
to prioritize agenda items and conduct meetings efficiently and effectively,
to use standard office software packages to create effective spreadsheets, documents, and presentations,
to create and edit recruitment and marketing content for the college and its programs as part of a coordinated strategy.
Preferred majors and minors: English, History, Sociology/Anthropology, Visual Arts, Theatre, Criminology & Criminal Justice, Liberal & Integrative Studies, Social Work, African-American Studies, Women and Gender Studies, Music.
Apply through Handshake. Applications open 10/3. Applications close 11/15.