Performance Times
Weekend 1 Schedule
| | | | |
| --- | --- | --- | --- |
| Day | Friday | Saturday | Sunday |
| Time | 7:30pm | 7:30pm | 2:00pm |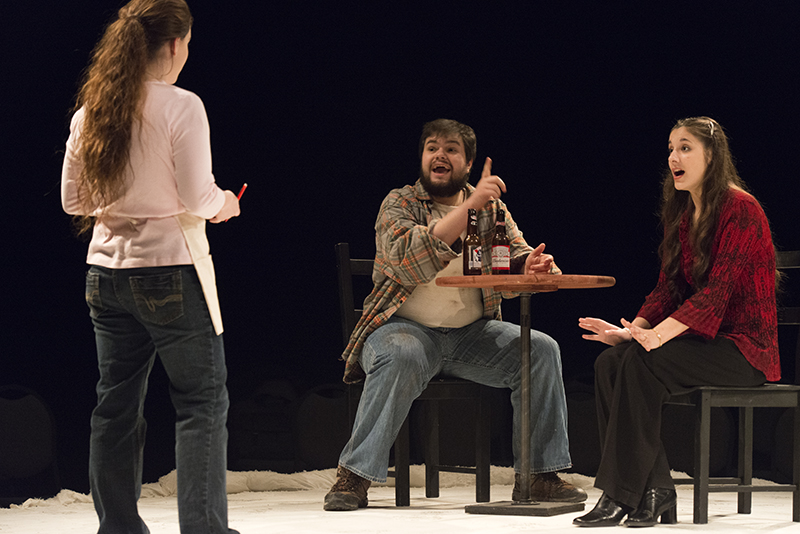 Weekend 2 Schedule
| | | | |
| --- | --- | --- | --- |
| Day | Thursday | Friday | Saturday |
| Time | 7:30pm | 7:30pm | 7:30pm |
Location
UIS Studio Theatre
(Public Affairs Center-level 1), UIS Campus
Tickets
There are three ways to purchase tickets for UIS Theatre Productions
In-Person
Visit the UIS Ticket Office in the UIS Performing Arts Center Lobby on Level 2 of the Public Affairs Center,
The ticket office opens two hours before ticketed events.
Regular Hours: Monday – Friday: 10am – 5pm
UIS Performing Arts Center Information Line

Patrons may call the UIS Performing Arts Center Information Line at (217) 206-6160 to speak directly with a representative. They will be happy to help you with special needs and accessibility information, length of performances, program content, directions, pre-performance activities, subscription ticketing and general customer service inquiries.
Ticket/Admission Prices
Adults (18 yrs – 64 yrs old): $14.00;
Senior Citizens (65 and over): $12.00;
UIS Faculty/Staff: $10.00;
UIS (and all current college) Students: $8.00;
Young Adult/Children (17 yrs and younger): $6.00
Please contact the UIS Ticket Office at (217) 206-6160 for assistance if necessary.
"PAY WHAT YOU CAN PREVIEW NIGHT": Applies ONLY on Preview Night, which is the final dress rehearsal evening performance before Opening Night. Cash only, in person only, and at the Studio Theatre main entrance door. For this evening only, the admission price is whatever amount each person decides to pay.