MUSIC MINOR
Welcome to the Music Program at the University of Illinois Springfield where students have the opportunity to earn a Minor in Music and take classes in a variety of music disciplines including musicology, ethnomusicology, music theory, music education, arts entrepreneurship and music performance. A number of music scholarships are available, including the $10,000 Camerata scholarship and multiple institutional scholarships.
ENSEMBLES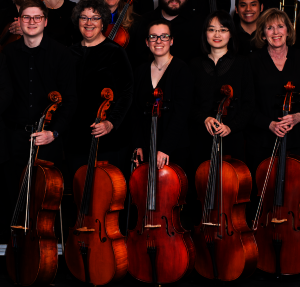 Music ensembles at UIS include Band, Cello Choir, Chorus, Flute Choir, Jazz Ensemble and Orchestra. Students, faculty/staff and community members are welcome to join UIS ensembles. Students may earn course credit by playing in an ensemble. Faculty/staff and community musicians ages 12+ interested in joining a UIS Music Ensemble may fill out a brief application form.
INDIVIDUAL INSTRUMENTAL LESSONS
The UIS Music program offers Individual Music Lessons for students at the beginning and intermediate/advanced levels. Students may register for MUS 141/341 Instrumental Lessons. Additional Fees Apply.