The History Master's Degree
The M.A. in History emphasizes the development of analytical research skills necessary for studying the past. The curriculum focuses on the comprehension and appraisal of historiographical perspectives and debates, the methodologies and practices of research in primary sources, and the development of skills necessary for the interpretation of the past for a public audience. The program offers a choice of three concentrations: Public History, United States History, and World History. The curriculum is designed to serve students with a variety of goals, including those interested in teaching; those pursuing careers with business, labor, or community organizations; those seeking employment in historical agencies, museums, historical societies, or archives; those desiring the intellectual stimulation of a challenging discipline; and those interested in continuing advanced education.
Questions about admissions, funding and internships, degree requirements, faculty interests, and career placements? Continue below or contact us at his@uis.edu.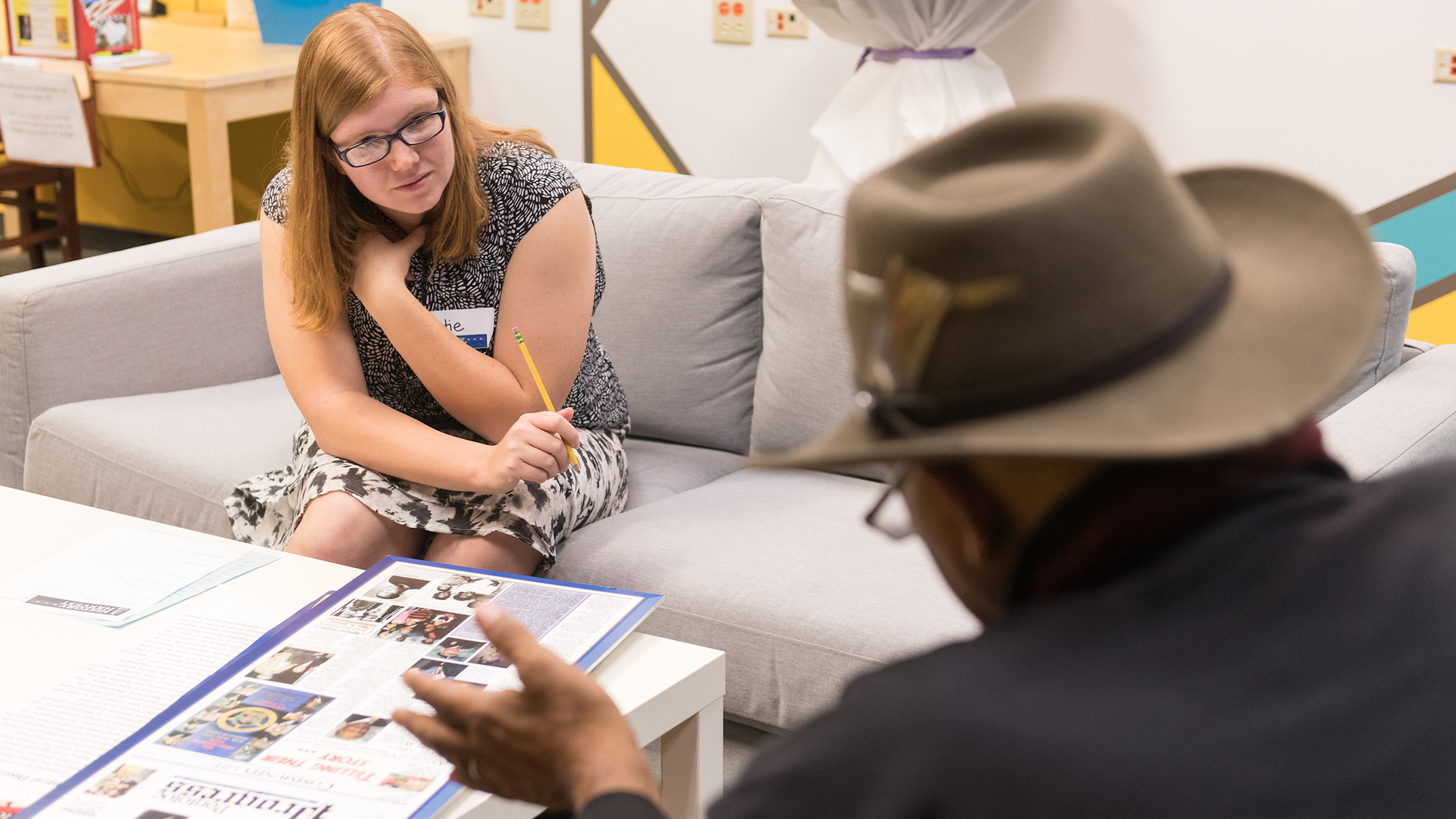 Admissions
The History Department accepts students for both Fall and Spring semesters, with a rolling deadline for application. Generally, applicants seeking funding should apply for Fall semester by March 1. Visit UIS Admissions for more information about the application process.
Funding and Scholarships
History MA students have an outstanding recent record of securing internship, assistantships, and scholarships--many that include tuition waivers.
Graduate Assistantships: Assistantships in UIS departments and offices provide monthly stipends during the contract period. Assistants are eligible to receive a tuition and service fee waiver (this includes the activity fee, the intercollegiate athletic fee, the Career Center fee, and up to 8 credit hours of the Health Service fee) for qualifying course work. General fees and course fees are not waived. Assistants are entitled to a maximum of 30 credit hours of tuition waived during the academic year (includes fall, spring, and summer semesters). Application deadline: March 15.
Graduate Public Service Internship Program: GPSI is ranked as one of Illinois' premier governmental internship programs. For over 45 years this program has provided top-flight graduate students with a high quality graduate education, real world experience, and lifelong networking connections. Recent GPSI locations for History students have included: Illinois State Historic Preservation Office, State Historic Sites of Springfield, Abraham Lincoln Presidential Library and Museum, Illinois Department of Transportation, Illinois Department of Revenue, and the Illinois Art-in-Architecture Program. Positions include a monthly stipend, tuition waivers, and professional development funding. Application deadline: March 15.
Porter Coble Scholarship
Mary and Nelson Howarth Scholarship
Syma R. Mendelsohn Endowed Scholarship
Degree Requirements
Visit the UIS Catalog for details on course curriculum.
Graduate Handbook
The Handbook is designed to help you navigate your journey through the History MA program. It contains guides to the curricula for the three concentrations and explains the timeline, requirements, formatting guidelines, and procedure for the closure options. The Handbook also contains helpful links and resources, including those related awards and scholarships.
Read the Graduate Handbook (PDF).
Alumni Success
Graduates from the UIS History MA program work as professionals throughout the country. Just a partial list of recent placements includes:
Abraham Lincoln Presidential Library and Museum (Springfield, Illinois)
Abraham Lincoln Home National Historic Site (Springfield, Illinois)
Illinois State Archives (Springfield, Illinois)
Illinois State Museum (Springfield, Illinois)
Smithsonian National Museum of American History (Washington, DC)
National Archives and Records Administration (St. Louis, Missouri)
West Virginia State Historic Preservation Office (Charleston, West Virginia)
Green McAdoo Cultural Center (Clinton, Tennessee)
Preservation Massachusetts (Plymouth, Massachusetts)
Museum of the Yellowstone (West Yellowstone, Montana)
Recent MA alumni have also joined doctoral study programs at the University of Mississippi, the University of South Carolina, and the University of Arizona.
History MA Alumni Features
Expand to learn more about our recent graduates
Gabrielle Mesko (MA 2019), Program Supervisor at the Mille Lacs Indian Museum and Trading Post, Minnesota Historical Society
What are you up to these days?
I graduated in 2019 with a Master of Arts in Public History from UIS. I wrote my thesis on Abraham Lincoln (who else?) and his travels on the 8th Judicial Circuit. For the past 3 or so years, though, I've lived in my home state of Minnesota. I am a Program Supervisor for the Minnesota Historical Society at the Mille Lacs Indian Museum and Trading Post, which is located on the Mille Lacs Band of Ojibwe reservation near Onamia, MN. In past positions with the Minnesota Historical Society, I've served as an Interpreter at both the Minnesota History Center and the Minnesota State Capitol. While at UIS I worked at Lincoln Home National Historic Site as a Park Guide (this job really got me started down the path of historical interpretation specifically--previous to this, I didn't even know historic interpretation could be a job, let alone a career!).
Tell us more about your job
As Program Supervisor at Mille Lacs, my primary duties include managing the day-to-day operations of the museum and its interpretive programming, working with field trips, special groups and events, and hiring and training interpretive staff. Something I am currently focusing on in the off season is growing digital access to our programming, especially when it comes to social media. I'm also redoing a couple of our school lesson plans to make them more digitally focused for students. 
How did your UIS experience help you get to where you are? 
My UIS experience prepared me excellently for what I am currently doing by giving me a well-rounded knowledge of the current trends in the literature about the field of public history, as well as giving me strategies for understanding the relationship between public audiences and museums, which directly helps me in my current work as someone who writes and directs public-facing interpretive programming. My professors were all very passionate and capable instructors who ignited the passion in me for a career I didn't really know was possible before I started graduate school at UIS.
What advice to you have for anyone considering an MA in History from UIS? 
To prospective students, I would say that if you like small, intimate class settings, a welcoming atmosphere, faculty who know their stuff and care about their students, and abundant opportunities to dip your toes into all sorts of history-focused professional and academic work, you'll find all that and more at UIS. I loved my time there as a student, and I know you will too. 
Katie Brethorst-Stockwell (MA 2022), Deputy Director of the Grayslake Heritage Center and Museum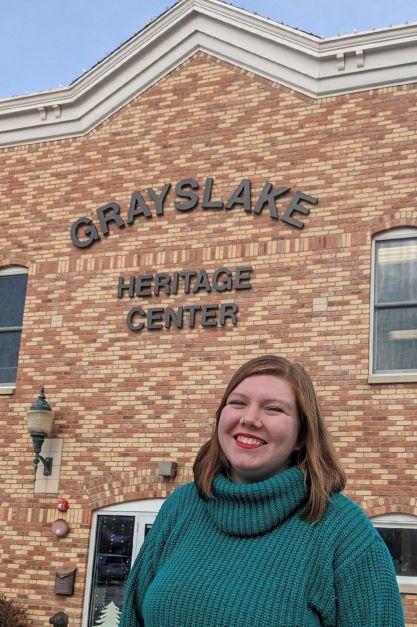 What are you up to these days?
I graduated from my master's program at UIS in May 2022. I applied to a job in June in Grayslake, Illinois, and I accepted my position as Deputy Director of the Grayslake Heritage Center and Museum in July. My husband and I moved to a town called Lake Bluff nearby both our jobs.
Tell us more about your job
Prior to taking this position, I researched and created exhibits with the committee that opened the Sangamon Experience museum on the UIS campus, which has helped me immensely with my current job. Today I work on exhibits, plan upcoming programs, make community connections and partnerships, all of which I learned while working with Dr. Hunter and the Sangamon Experience team.
How did your UIS experience help you get to where you are? 
UIS offered an internship for me at the Abraham Lincoln Presidential Library, and I could not have gotten this job without the lessons and encouragement I received from my supervisor. I also had an incredibly supportive cohort in the UIS history program. My incredibly patient and enthusiastic professors also inspired me to create a worthwhile thesis and exhibit.
What advice to you have for anyone considering an MA in History from UIS? 
Do not be afraid to make connections. Opportunities are all around if you take the initiative to find them. If something sounds interesting, reach out and email someone in charge to ask if you can help. Go to events and talk to those around you. Learning from the historical community offers the chance to learn the practicum of what life in the history field is like.
Rashaun DeBord (MA 2019), Business Analyst II at Washington University, St. Louis
Image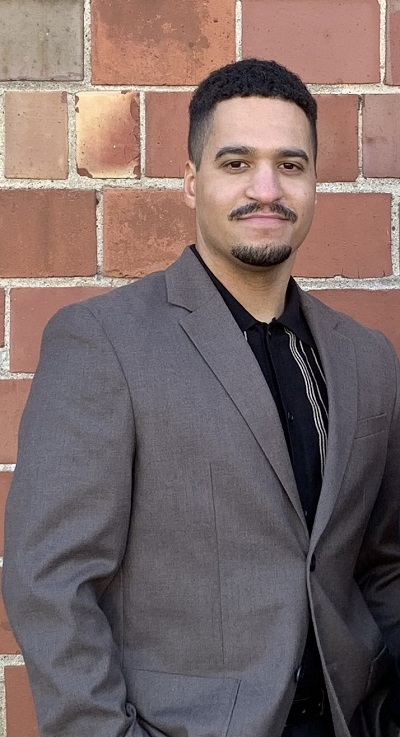 What are you up to these days?
I graduated with an MA in Public History from UIS in 2019. I currently live in St. Louis, where I'm a Business Analyst III at Washington University in St. Louis.
Tell us more about your job
I've been in my current position for over a year and a half. WashU is a large research university and recently went live with a new Finance and HR system called Workday. My position provides support for any grants-related issues/enhancements in Workday. Prior to this position, I was a Research Education Specialist at WashU.
How did your UIS experience help you get to where you are? 
My Graduate Public Service Internship (GPSI) at the Illinois Department of Revenue helped tremendously, as I gained administrative skills that are valuable in office settings. There were also excellent classes and faculty that challenged me to think outside of the box, which enhanced my analytical, critical thinking, and problem-solving skills that I currently use in my job every day.
What advice to you have for anyone considering an MA in History from UIS? 
An MA in History from UIS provides many things: intimate classrooms that invite discussion and curiosity, faculty who challenge, engage, and listen, and a city where history is all around you and a new story is ready to be told. If you want a place to grow as a person and historian, then UIS is the place for you. There are also excellent internship opportunities, including the GPSI, which will give you invaluable experience outside the classroom.
Beth Kruse, PhD (MA 2016), Historian at the University of Mississippi
What are you up to these days?
I graduated from UIS in the Spring of 2016 and earned my Ph.D. from the University of Mississippi (UM) in the Fall of 2021. I currently work for UM with the title of Teaching Scholar and Adjunct Instructor. I am searching for a permanent position in academia or public history institutions.
Tell us more about your job
I teach three courses a semester with anywhere from 150 to 200 students. The courses are two survey classes and one upper-level Civil War class. My current research projects include two slavery projects and one Civil War project. The slavery projects are researching the role of slavery in the creation of St. Peter's Episcopalian Church and the University of Mississippi. The church project is sponsored by the church and the UM is an ongoing collaboration of faculty, staff, and community members sponsored by the University. I am also in the process of creating a digital history of the UM's Civil War history. The website will be the property of the university with ongoing research by future UM Public History majors. UIS Professors Devin Hunter and Ken Owen are integral to my ongoing endeavors to create public history projects.
How did your UIS experience help you get to where you are?
I credit my success as a historian to the opportunities provided at UIS. The UIS History Department curriculum combined with the ability to volunteer for other community based historical institutions provided me the ability to "do history." Theory from the classroom is obviously essential to interpret history and the professors provided me with the knowledge I needed to finish my Ph.D. studies in the short five years, but the ability to actual "do history" was profound. In my time at UIS, I was able to work on digital history projects, help the Governor's staff understand items held at the mansion, and complete an oral history project. As a Civil War historian, I also volunteered at the Abraham Lincoln Presidential Museum and helped conserve the Civil War flags at the Illinois State Military Museum. These experiences in the field were invaluable. In addition, Professors Kristi Barnwell, Elizabeth Kosmetatou, and Holly Kent inspired in the classroom to look deeper for answers. They challenged my understandings, spurring me to grow as both a scholar and as a human. I also must thank members of the Psychology Department for helping me develop solid understanding of PTSD. My thesis was interdisciplinary looking at trauma in Civil War prisoners' post-war writings. Professor Cheryl Reminger answered my questions, allowed me to sit in a class, and introduced me to Professor Frances Shen. Dr. Shen then agreed to be my outside committee member for my thesis. These professors also talked about my work with their colleagues and when I presented at STARS several from the psychology department attended. They asked me questions and afterword conveyed to me that I did well presenting my findings and navigating their questions. My work and my thesis earned me a full doctoral scholarship at the University of Mississippi. I also served as the History Department Graduate Assistant which provided me with insights to how to effectively research and understanding university organizational systems. Being tasked with organizing professor's research or helping them locate resources were lessons I applied when undertaking the task of researching for my dissertation. Lastly, after graduation I found changing roles from student to professor less stressful as I was already aware of expectations and demands placed on professors.
What advice to you have for anyone considering an MA in History from UIS?
I am currently trying to recruit a UM student to apply for the UIS Public History Master's program. The selling points are the GPSI program and finding placement with Illinois State historical agencies. I am out of the loop now, but partnerships with the local historical agencies are the key to UIS marketing and I hope they have grown, since I graduated. Providing history internships with local partners allows students to lower their costs of attending college, learn in the workforce, and create networks that will help them find future employment. Beyond the History Department faculty, who are dedicated to teaching students, Springfield also offers history students the ability to do research at a Presidential Library and State Archives. The ability to learn from dedicated faculty, work in the field, and research at large archives is the perfect trifecta for a master's history student.
Adam Velk (MA 2019), Director, Green McAdoo Cultural Center, Clinton, Tennessee
Image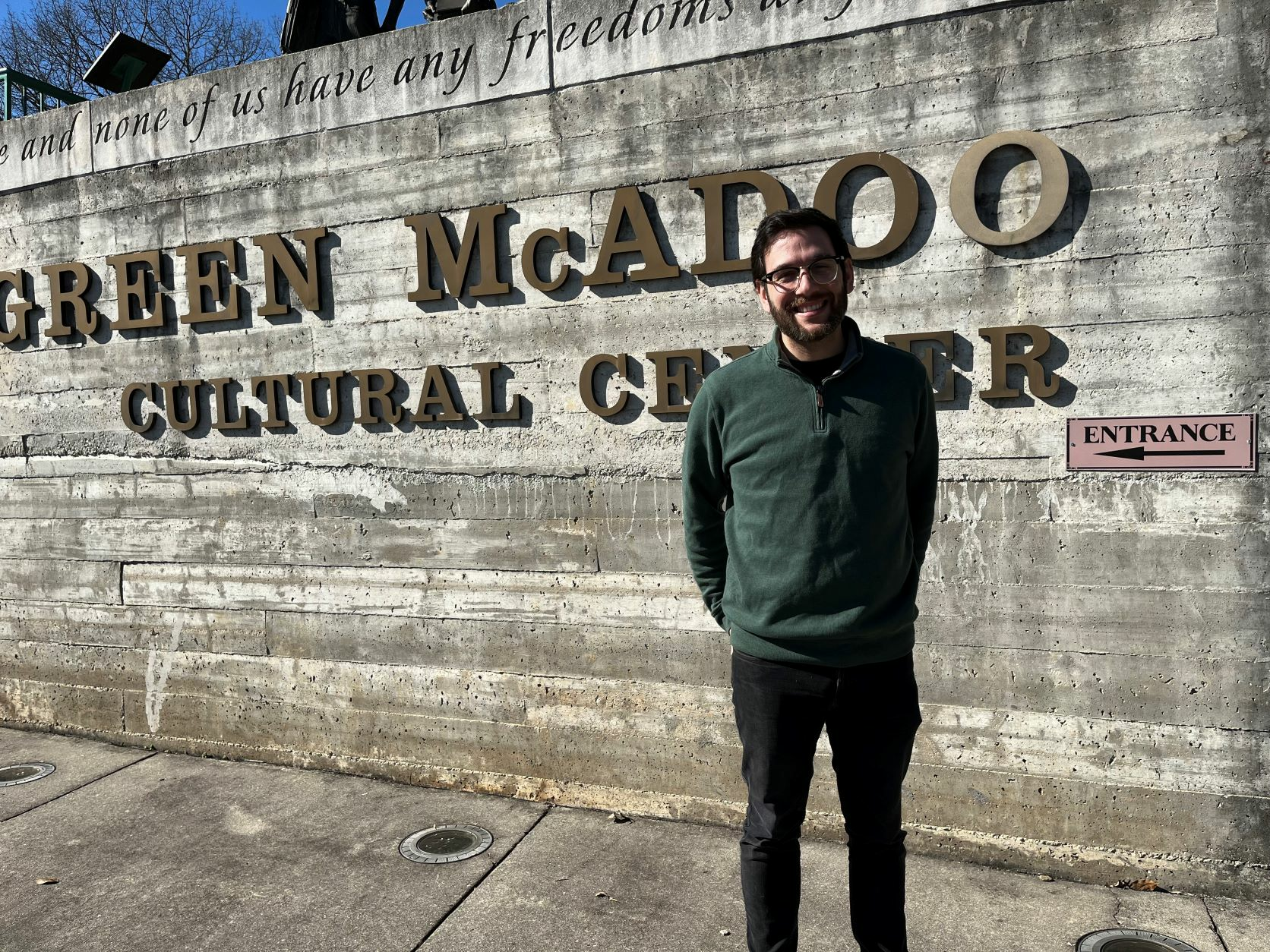 What are you up to these days?
I just bought a house in Knoxville, TN with my dog, Albert. I'm the director at the Green McAdoo Cultural Center. I graduated from UIS back in May of 2019.
Tell us more about your job
I've been the director at the Green McAdoo Cultural Center for two years now. Prior to that, I was with the National Park Service where I had the fortune of working at Lincoln Home National Historic Site and President's Park/White House, as well as the Padre Island National Seashore. I wear many hats in my current position, but some of the main duties I have are giving stellar historical interpretation on the history of desegregation, community outreach, community collaboration, fundraising, and grant writing. Currently I'm working on a project for bringing a Smithsonian exhibit on voting to our center, as well as a companion podcast that we are doing with Black in Appalachia and PBS.  
How did your UIS experience help you get to where you are? 
I blame Dr. Hunter for any and all success I've had in my career. From the moment I first called to see if he had room in the program, to well after I've graduated, my advisor went to bat for me. He even sent me the job opening for my first NPS job. Nearly all of the historical/museum theory I've applied to my career I learned in his, (and Prof. Owen's) classes. Digital History with Prof. Owen was incredibly helpful. Every class I took with Prof. Hunter has stuck with me and helped me more than he or I will probably ever understand. I'm thankful I had professors who pushed me to be a better public historian, but who also let me get weird and creative with it. I also want to give a big shout out to Rashaun and Ben for being great friends I met in classes, and Elle for being competitive and pushing me to be greater.  
What advice to you have for anyone considering an MA in History from UIS? 
Sign up for this program if you are ready to prioritize being a public historian. This field is way too competitive for people who aren't committed to it. If you are ready to say yes to anything that helps you build a career in this field, then UIS is the right place. If this is the career you want; these professors will give you the tools to be great. 
Zach Homeier (MA 2021), Businessman and History Podcaster, Springfield
Image
What are you up to these days?
I live in Springfield, Illinois, working for my family business Bi-Petro, Inc which is a crude oil purchasing company. I am currently the Director of Safety with the company and I graduated from UIS back in May of 2021 with an MA in History. 
Tell us more about your job
I have been working for Bi-Petro, Inc full time now going on 6 years. My job responsibilities include interviewing and hiring, managing the company drug and alcohol program, driver safety and training, vehicle registrations, and managing our social media page. Outside of work I am currently working on my history podcast which is about local history in central Illinois. 
How did your UIS experience help you get to where you are? 
The relationships that I was able to form with my college professors such as Dr. Hunter, Dr. Peck and Dr. Kent made a huge impact on my career. They were able to teach me many skills that I still use to this day when it comes to handling stressful situations at my job, conducting historical research, and being a proactive person in my community. 
What advice to you have for anyone considering an MA in History from UIS? 
That every history student should sign up for the Masters program in History because UIS has some of the best college professors that will give you the extra help and guidance that you need to be successful as a student and a professional.