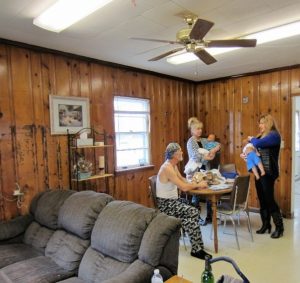 The Child Protection Training Academy on the UIS campus is the first statewide simulation training project in the country that provides a child protection training laboratory for frontline professionals and students. University faculty have been working with the Department of Children and Family Services, Illinois Court-Appointed Special Advocates, law enforcement, domestic violence advocates and other frontline professionals to develop new and innovative training curricula that utilizes a realistic environment. For more information contact:
---
Candid Conversations in Child Welfare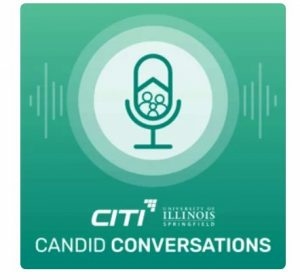 Candid Conversations is Child Welfare is a partnership between the University of Illinois, Springfield (UIS) Child Advocacy Studies (CAST), Child Protection Training Academy, and Creative Information Technology Inc. (CITI) that "brings a modern mash-up of child welfare best practices, experiential and simulated learning, evidence-based tools, cross-sector collaboration, and technology innovation to move child welfare practice to the next level."
---
U.S. Senator Dick Durbin visits the Child Protection Training Academy simulation lab to learn how we're training front line child protection workers and first responders how to better protect Illinois children.
---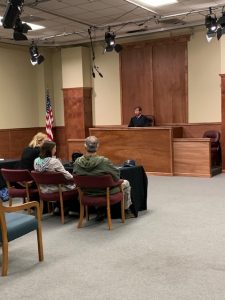 Newly Renovated Mock Courtroon in OEM TV Studio Serves as Training Lab for Child Protection Investigators
The UIS Child Protection Training Academy (CPTA), in partnership with DCFS, has a newly renovated mock courtroom located in the UIS Office of Electronic Media (OEM). The renovations were spearheaded by Professor Dathan Powell, OEM Director Cody Pope and CPTA Principal Investigator Dr. Betsy Goulet. The courtroom serves as the training lab for new child protection investigators and other frontline child welfare professionals. Judge John Mehlick, a retired Sangamon County Judge "presides" over the courtroom and numerous other volunteers from the Juvenile Court system lend their expertise.
---
DCFS Simulation Gives Inside Look at Challenges Investigators Face
View the May WICS interview with CPTA staff
---
Want to help? Check out how to support Child Advocacy Simulation Lab.