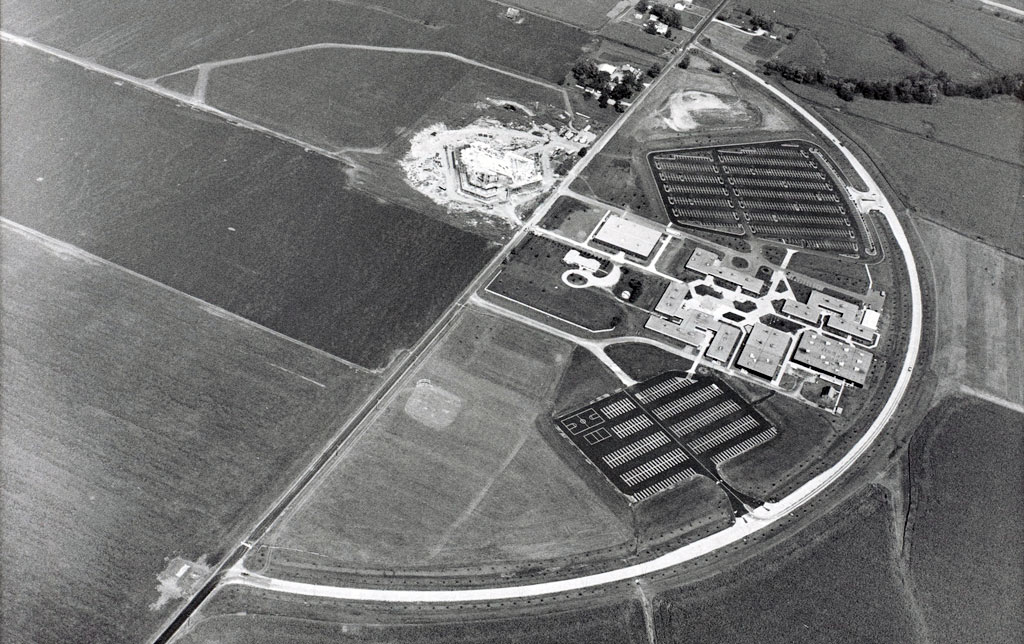 ---
History
Read statements and histories from the original SSU catalogs
Newspaper articles about SSU-UIS
---
An Abbreviated History
Note: Content for the Abbreviated History has been taken from UIS Archives/Special Collections.
1969

Governor Richard Ogilvie signed into law Public Act 76-131, the bill creating Sangamon State University. At that time, the Central Illinois Committee for Higher Education was formed to raise funds and acquire land for the new University.
Dr. Robert C. Spencer began work as its first president.
See more history from the 1960s on the Archives/Special Collections website.
---
1970

Preliminary work began on campus construction.
"A surveyor's stake, standing in the furrowed ground of an Illinois prairie, announces that the co-ordinates of plan upon plan, meeting upon meeting, drawing upon drawing, and survey upon survey have focused on this as the point around which all the activities of a new university will revolve."
– From the Long Range Development Plan, Sangamon State University, by architects Murphy, Downey, Wofford & Richman, 1970.
---
1972

Construction began on Brookens Library.
Paul Simon founded Public Affairs Reporting Program.
---
1975 – 1977

The Peer Group Counselors for the 1975-76 academic year included singer Bobby McFerrin (center, right). Front: Toni Munn. Second row: Pat Leitzen, Victor Vidal, McFerrin. Third row: Annette Boxman, Dave Lindley.
Ernst Giesecke became first professor emeritus.
---
1978 – 1980

University Observatory dedicated (located on roof of Brookens Library; the first of Prof. Charles Schweighauser's "Star Parties" was held previous November).
Alex B. Lacy Jr. began work as second president.
See more history from the 1980s on the Archives/Special Collections website.
---
1981 – 1992

SSU Auditorium held its premier performance–a sellout of Hal Holbrook in "Mark Twain Tonight!"
PAC Building dedicated.
See more history from the 1990s on the Archives/Special Collections website.
---
1993 – 1999

Campus Police Department established.
The Women's Center opened in Building F (now Student Affairs Building).
---
2001 – 2005

Richard D. Ringeisen began work as second UIS Chancellor
116 Capital Scholars began classes, the first Freshmen class at UIS. Their dormitory, Lincoln Residence Hall, opens. The $10 million complex can house a total of 226 Capital Scholars.
See more history from the 2000s on the Archives/Special Collections website.
---
2006 – 2009
UIS student enrollment reached 4,761, a new record. The number included new general-admission freshmen, 958 off-campus online students, and over 300 international students. Over 850 students were living in campus housing.
The Inauguration of the Illinois House of Representatives was held in Sangamon Auditorium. The ceremony was held before representatives from every county and legislative district in Illinois. It was the first time since 1840 that inaugural proceedings were held at an alternate location. The change of venue was necessary due to ongoing renovations in the House chambers.
---
2010 – 2011
Student enrollment at UIS reached a recond of 5,174, surpassing the 5,000 milestone for the first time. This included 3,197 undergraduates and 1,977 graduate students. There were 1,089 students living on-campus. 1,364 students, or more than one-fourth of the student body, were majoring in online degree or certificate programs.
Susan J. Koch begins work as the third UIS Chancellor. For the first time, Chancellor Koch also has the title of Vice President of the University of Illinois.
See more history from the 2010s on the Archives/Special Collections website.