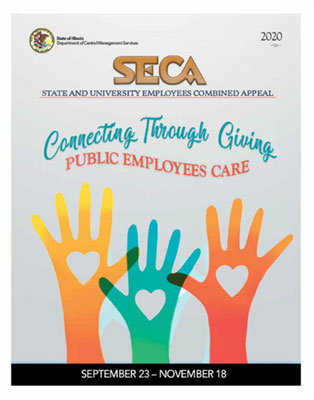 Use the link below to find a listing of the nearly 1,500 local, state, national and international charities that are participating in this year's campaign, along with a brief description of the services provided by these individual agencies.
For questions about the SECA campaign, please contact Erica Michael at emich1@uis.edu.
To search document, use Ctrl + f. Type a key word into the dialog box. It will highlight the subject in the document. Use the previous or next buttons till you find the subject you were looking for.
List of SECA Charities
Download or print the List of SECA Charities (pdf)
Message from the Chancellor:
UIS Workplace Giving Campaign
September 23
Good afternoon:
Participation in the annual State and University Employee Combined Appeal (SECA) campaign has been a UIS tradition for more than 20 years. UIS employees show great generosity each year, and I know the 2020 campaign will be no different.
As we prepare to launch this year's SECA campaign, it is important to note that charities are facing hard times amid prolonged lockdowns and a declining economy. The COVID-19 pandemic has impacted communities across the world, leaving millions of people out of work or suffering in other ways. It would be easy to throw in the towel and ignore the needs, but from what I understand about this university, I fully expect UIS faculty and staff to rise to the challenge. Philanthropy is a core value at UIS, and our employees repeatedly go the extra mile through both good and challenging times.
If you are able to help financially this year, I ask for your participation in the SECA campaign to advance the remarkable work these charities are accomplishing in spite of the pandemic. To maintain social distancing and safety during COVID-19, the campaign will operate differently this year. Information about the move to an electronic campaign, including instructions on how to make payroll and/or one-time gifts, can be found at: https://go.uis.edu/seca-charities.
I applaud the spirit of generosity on this campus, and I look forward to a successful campaign. Thank you for your consideration.
United In Safety
Karen M. Whitney, Ph.D.
How to give to SECA
SECA Facts
A $20 donation per pay period will help fund research to identify the chemicals in air pollution that are linked to birth defects, lung cancer and leukemia.
A $25 donation per pay period will help create an electronic copy of a research report and make it available to environmental professionals and citizens around the world.
A $50 donation per pay period can sponsor two classes of 15 students from underprivileged areas to a day at the zoo to see spectacular wildlife firsthand, and to gain an insight into the importance of protecting wildlife and their habitats.
A $75 donation per pay period will purchase an elephant radio collar to be used for research in Kenya, Tanzania, and the Kazungula Heartland where elephant populations are threatened and require monitoring.

The 2020 UIS Committee
Ann Gemberling
Jackie Gillock
Amie Kincaid
Steve Marvel
Pam McGowan
Erica Michael
Denise Rothenbach
Aaron Stewart
The 12 participating charities
American Cancer Society
America's Charities
American Heart Association
Black United Fund of Illinois
Community Health Charities
Community Shares of Illinois
Earth Share of Illinois
Global Impact
Independent Charities of America
Special Olympics Illinois
United Negro College Fund
United Way