On-Campus Interviews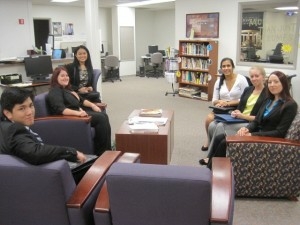 We welcome the opportunity to host interviews on campus! This is a convenient interviewing method for UIS students and is a way for employers to interview many UIS candidates in one day.
On-Campus Interviewing Options
Method 1 (preferred method):

If you are interested in on-campus interviewing using this method, you must submit a request at least 25 days prior to the desired interview date.
The suggested time to request on-campus interviews is 60 days in order to allow students enough time to prepare and to provide the position maximum campus exposure.
The Employer Relations representative is available to assist you with this.

Method 2:

If you prefer to schedule your own interviews and use UIS space to hold your interviews, you must provide the Career Development Center with the names of the students who are interviewing prior to the interview date.
You must submit a request to use our facilities at least 25 days before the desired interview date, to ensure adequate space.
Please contact the Employer Relations representative, who will work with you to schedule the interviews.
NOTE: We will not interview students for you. Student performance is not a reflection of the Career Development Center. The Career Development Center is not a placement office. You can learn more about why we do not offer placement services.