Career Immersion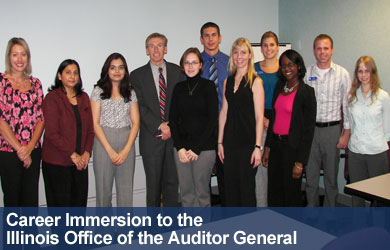 What is a Career Immersion?
Career Immersions are "career field-trips," which connect students with employers in the employer's real-world work setting! Students receive a "behind the scenes" look at organizations and the variety of careers that exist within them!
Download our Career Immersion One Sheet for Employers (pdf).
Benefits for Employers
Career Immersions are completely customizable and can be tailored to the unique interests and needs of organizations.
Career Immersions can be targeted to students who employers are interested in interacting with.
Career Immersions allow employers to passively recruit students for internships and jobs.
Career Immersions provide an opportunity for employers to give back to UIS and provide meaningful experiences for students to expand their perspectives on careers, academic majors, and ways to make themselves more marketable.
How We Partner with Employers
We may provide transportation for students who RSVP to a Career Immersion.
We will assist in the development and customization of a Career Immersion to ensure a meaningful experience for both the employer and the students.
We may market the Career Immersion to students through email alerts, social media, campus calendars, faculty connections, and student clubs/organizations.
For More Information
For more information and to schedule a Career Immersion, contact us at:
(217) 206-6508 or EmployerRelations@uis.edu