Goals & Objectives
The goal of the Diversity Center is to foster a supportive environment for students to live, learn and grow as active members of the academic community and as individuals.
We are dedicated to developing an understanding of differences through educational, cultural, and social programming activities and to assist in the recruitment, transition, and retention of ethnic minority and underrepresented students at UIS.
The Diversity Center promotes the following objectives:
Diversity Awareness (DA)
Cognitive Development (CD)
Identity Enhancement (I.E)
Leadership Development (LD)
Equity and Inclusion (E.I)
The objectives aid in the efforts to support intercultural dialogue and other initiatives which help create a campus climate that welcomes diversity; endorses fair social justice practices; promotes parity; embraces intersectionality; eliminates divisions, intolerance, and stereotyping for all people.
Learning Objectives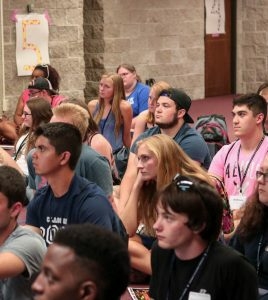 Diversity Awareness(DA): Students are expected to acquire and articulate knowledge about diverse groups and cultures such as race, religious beliefs, ethnicity, age, gender, physical abilities, political beliefs, and socio-economic status. Students will avoid one-dimensional perspectives of life and embrace an understanding of difference.
Cognitive Development(CD): Students should be able to build a foundation of knowledge by actively engaging in conversations and activities within our programming. This involvement allows the student to challenge and cultivate their thinking while learning from and relation to diverse experiences. In an effort to shift and mold one's cognitive process, we hold these programs to incorporate the biological maturation each individual brings.
Identity Enhancement(IE): Students should solidify their sense of ethnicity, culture, sexual orientation, gender, and other social identities as a result of participating in programs. Individuals should understand that identity enables one to move with purpose and direction in life. It evolves and changes over time, offering one a chance to gain a better sense of self in social and cultural context.
Leadership Development(LD): Students should be able to identify their skills, strengths, and attitudes as a leader after engagement in these events/activities/initiatives. Individuals will be given chances to take initiatives in areas where civic, educational and cultural awareness can be practiced. Overall, one will be able to explore various challenges they may face, while building advocacy necessary to understand, evaluate, and advance their leadership.
Equity & Inclusion(EI): Programs will guide students in their understanding of fair social justice practices that provide parity. Students will be given the opportunity to promote, recognize and respect people from all walks of life.