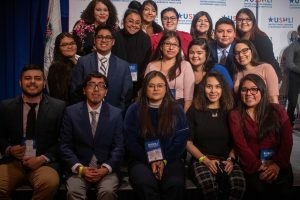 Hispanic/Latinx Mentoring Program
In this program, you will be assigned a mentor who will help you become acquainted with life at UIS during the first few months of the semester, and you will have the opportunity to participate in social activities throughout the school year.
Hispanic/Latinx Alumni Panel and Brunch
As part of Hispanic Heritage Month, the Diversity Center and the UIS Office of Advancement hosted a discussion and brunch for current students and alumni. Alumni who have entered their careers shared their career stories (good and bad) and offered suggestions on how Hispanic/Latinx students can navigate the transition into their professional lives.
---
Hispanic/LatinX Discussion Group
The Hispanic/Latinx Student Discussion Group is a bi-weekly event that takes place in the residence halls. It is primarily focused on Hispanic/Latino students, but all students are welcome. Each session is loosely focused on a topic that is relevant to the season, for example: family pressure, preparing for the end of the academic year/going home for the summer, adjusting to college life, etc. We invite upper-classmen to share their own experiences of challenges they've faced and how they've dealt with them. This allows younger students to realize that they are not alone, and that the struggles they are experiencing are normal and surmountable.
For more information, contact the Diversity Center for next years updates.
---
Hablemos Español
Periodically throughout the semester we gather together in the Diversity Center to converse in Spanish. The topic of conversation varies – we may talk about current events, watch and discuss a film, or just share personal stories. This is a great opportunity to practice your Spanish if it is rusty, or just speak it if you do not get the opportunity very often. Feel free to drop in any time – even if you've never been before.
---
Collegiate Leadership Development Program (CLDP) and Grassroots Leadership Development Program (GLDP)
The Collegiate Leadership Development Program and Grassroots Leadership Development Program are based on the model established by the United States Hispanic Leadership Institute (USHLI). As intended by USHLI, these programs are run by students with support from Diversity Center staff.