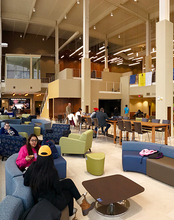 The University of Illinois Springfield Student Union is opening its doors to community members who may still be without power following last Thursday's storm.
The Union will be open from 8 a.m. to 5 p.m. Monday-Friday for anyone who wishes to charge their cellular devices, use the guest Wi-Fi network, utilize available desk space for remote work or get out of the heat and enjoy an air-conditioned space.
Parking is available in Lot J to the east of the Student Union. Individuals using the Union for storm relief are not required to pay for parking.