Orientation is an exciting time for first-year (freshmen/women) college students and families. Your student's orientation is mandatory and will have three parts described above. We have programming that you can participate in as well:
an online orientation that you will be able to complete at your own pace. Once your student registers you for Orientation, you will receive access to your online orientation in mid-May; and
an In-Person, on campus program in Springfield. Students can bring up to two guests to our in-person sessions that will include information about financial assistance, student billing, academic expectations, and more. We have a Parent Track that runs alongside student programming. You will have the opportunity to hear more about campus resources that are available to support your student's success and meet faculty and staff members who your student can go to for assistance.
How Much Does Orientation Cost
There is a mandatory Orientation Fee that is assessed to each student and covers some expenses for the student for Orientation (both online and in-person). The University covers most of the costs related to your student's orientation to keep the costs affordable. The Orientation Fee is mandatory and non-refundable.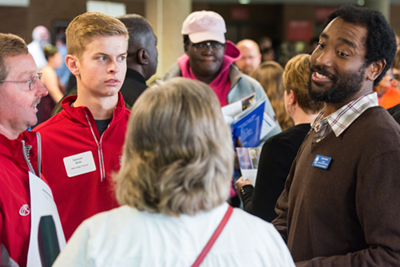 Additional Guest Fee
There will be an additional guest fee of $25/person to cover the cost of the publications, mailings, staffing, and lunch at the In-Person Orientation. The guest fee is non-refundable. You can pay the Guest Fees online with the student orientation fee. We cannot accept payment onsite.
Orientation Handouts
What faculty members want parents to know (PDF)