By Train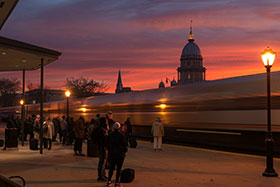 AMTRAK – Do NOT wait to purchase train tickets. Check-in for Orientation runs from 8:30 AM - 9:25 AM. You will need to arrive the night before Orientation as Amtrak does not have early morning arrivals out of Chicago. Make sure your final destination is the Springfield, IL Amtrak Station.
---
By Automobile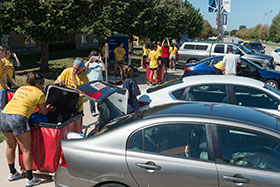 Parking: Pay kiosks are available in lots D, G, J, and I. Lots G and J are the closest visitor parking lots to the Student Union where most of Orientation will be held. Please pay attention to the signage on the parking lots, some are designated "permit only." Refer to the Visitors and Residential Student Parking map (pdf) for more information. Make sure you give yourself plenty to time to secure parking before Orientation begins at 9:30 AM
Driving Directions to UIS Campus (pdf)
---
Ground Transportation
Gracious Cab Company (GCC) provides a discount to UIS students (showing their i-Card) and families a discount. Call ahead of your arrival to reserve space(s) on a Gracious Cab shuttles. Print your orientation or family weekend confirmation email and show it to the driver in order to receive the UIS discount.
Springfield also has Uber and Lyft transportation options available. Download those apps to your phone to use them in Springfield.
(TRAVEL ALERT – GCC is the only company that has made arrangements with the university to offer discounted ground transportation. GCC cabs and shuttle vans are labeled with the GCC logo. If it doesn't say Gracious Cab or GCC they are not offering a sponsored UIS discount).
Gracious Cab Company – phone: 217-685-9900
Accessible Transport
Families that need accessible transportation from the train station to UIS, and later the hotel, should check out these Springfield resources:
The website Easy Access Springfield lists hotels that offer Hotel Shuttles that will provide accessible transportation with 48 hrs. notice. The website also provides information about private transportation companies that are lift or ramp equipped.
Sangamon Mass Transit District (SMTD) also provides transportation to visitors that have registered with their department.
---
Overnight Accommodations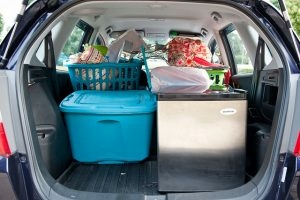 Parents, family members, and guests may need to make arrangements for overnight accommodations. The Springfield Convention and Visitors Bureau has a listing of area hotels. The list below is for convenience. We only update information when a hotel sends us new information. ** This page is frequently updated so check back regularly for information.
Plan Your Trip:
Make the most of your trip to the Capital City and get to know the community UIS calls home. Whether you are planning to stay overnight or a day visit, check the calendar of events to see what is going in Springfield. While you are in the Capital City explore some of our sites and places to eat. Walk in Lincoln's footsteps – from the Abraham Lincoln Presidential Museum to the Lincoln Home or Tomb. No trip to Springfield is complete without trying a local favorite, the famous horseshoe sandwich.
---