Meet The Hub's current staff! We are comprised of full time staff, graduate students, and undergraduate students. No matter your academic need, we have people who can help!
---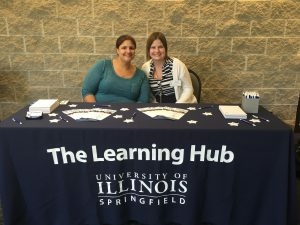 The UIS community can obtain help in a variety of ways:
through one-on-one appointments
though supplemental instruction
through workshops
accessing the online handouts and tutorials
visiting The Hub in person for handouts
requesting a class visit
walk-in tutoring events
and more
The Learning Hub's Mission Statement
The Learning Hub provides a friendly, welcoming environment for all UIS students to work toward succeeding in their academic coursework. All students are assured courteous, diplomatic and confidential assistance. Our staff has pledged to nurture and respect students academically using tried-and-true approaches to teaching and learning.
The Learning Hub's Vision Statement
The Learning Hub helps to improve student recruitment and retention through offering students, who are willing to work and to study, the highest quality, courteous academic support in all academic areas. The Learning Hub will seek to grow and to improve the quality of our services to meet the ever-changing needs of the UIS student population.
History of The Learning Hub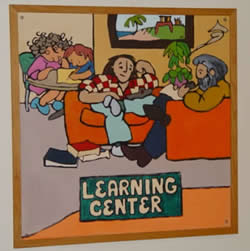 From 1995 until the transformation of the university from an upper division school to a four-year institution in 2001, the core and tertiary missions of the CTL remained fundamentally unchanged. Since the 1970s and well into the 2000s, the CTL has played a crucial role in assisting graduate students in the development of their Master's theses. With UIS's shift to a four-year institution, the CTL's function has changed its focus to undergraduates, but maintains its service to all students at all levels. With the advent of the Center for Academic Success in March 2014, the Center for Teaching and Learning updated its name to The Learning Hub, or The Hub for short, and continues in its mission to help all UIS students succeed in their academic coursework. As of Fall 2019, the Center for Academic Success has undergone a transition to the Center for Academic Success and Advising, and The Learning Hub continues to adapt to the changes to fully support our students in their academic success.
To reflect the learning center's 1970s staff and space, see the mural [to the right] painted by one of our former employees.