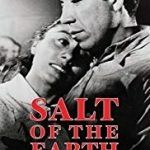 March 20 – Salt of the Earth (1954), from US, in English, 94 minutes, Not Rated (ECCE Speaker Series Event)
Co-sponsored with the Women's Center/Women's History Month
Mexican workers at a zinc mine call for a general strike. It is only through the solidarity of the workers and importantly, the indomitable resolve of their wives, mothers, and daughters, that they eventually triumph.
April 10 – Amelie (2001), from France, in French, 122 minutes, Rated R
Amelie is an innocent and naive girl in Paris with her own sense of justice. She decides to help those around her and, along the way, discovers love.
May 1 – The Lives of Others (2006), from Germany, in German, 137 minutes, Rated R
In 1984 East Berlin, an agent of the Stasi, the East German secret police, is thrown into a quandary. While conducting surveillance on a writer and his lover, he finds himself becoming increasingly absorbed by their lives.