Multiculturalism
Each course includes topics and draws on authors that reflect the ethnic, racial, and gender diversity of America, and also the broader cultural diversity that exists in the world.
Each course furthers the CAP objective by expanding your knowledge of and appreciation for the contributions of women, Americans of color, and other cultures with whom we share the world.
Collaborative Learning
While the worlds of business, science, and public service are managed by cooperative teams, most higher education continues to be modeled on the ethic of individual achievement and competition.
CAP courses are an exception. CAP students participate in learning teams in many course assignments, learning not only the assigned material, but how to participate effectively as a member of a team.
A Focus on Leadership
At the heart of CAP is the understanding that leadership is important and that it is only partly intuitive.
Effective leaders learn their leadership skills, usually through trial and error. While not denying the experiential basis of good leadership, CAP's philosophy is that preparation for leadership should not be hit or miss, but should be a component of higher education for highly qualified students.
CAP courses incorporate the study of leadership and the curriculum-wide focus on collaborative learning emphasizes leadership as an integral aspect of collaboration.
Experiential Learning Opportunities
Internships
College is great, but after four years, we'll send you off to a career (or graduate school) where education and experience matter.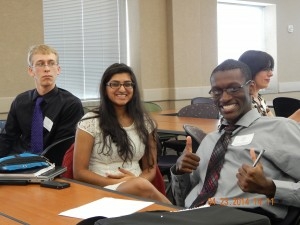 To make sure that you have both, all UIS undergraduates are eligible for internships or other opportunities for experiential learning through the Applied Study and Experiential Learning Term (AST).
In AST placements, students get academic credit, and in about 75% of all internships, students are paid for learning while doing.
We have almost 700 potential placements available, ranging from accounting firms to zoos; these include private sector companies, Illinois and other governmental agencies, non-for-profit organizations, and even the Illinois legislature and governor's office.
For more information, check out the AST home page.
International Study
International study is an important and exciting part of the education of an increasing number of American college students. Last year, over 100,000 U.S. undergraduates studied abroad, about twice the number of 15 years ago.
That means that about 10% of all American students include international study in their baccalaureate programs, and in selective institutions, the numbers are much greater, reaching over 90% at some colleges.
If you participate in theUIS Capital Scholars Honors Program, we will not only encourage you to study abroad, but we will do everything we can to make it simple and affordable. We have, or are developing, direct exchange student relationships with universities in England, Ireland, Japan, China and Australia, and CAP students also have access to placements in programs worldwide.
You can take your financial aid and scholarships with you when you study abroad, and because some UIS requirements can be met while out of the country, a semester abroad can be fit into almost all our baccalaureate programs, while still completing your degree in four years.
Read CAP study abroad testimonials from students about the experiences!
For more information, please access the Study Away website.
Leadership Opportunities
UIS and the Capital Scholars Honors Program provide many opportunities for learning leadership. A few of these opportunities are the Student Government Association and our Service Learning Program.
The Capital Scholars Honors Program provides the necessary steps to developing leadership skills through the interdisciplinary approach that is taken in the program. Public speaking, critical thinking and interdisciplinary work are strongly focused on in the CAP program.
Through rigorous coursework and excellent professors, leadership skills come naturally after the work that is done in CAP.