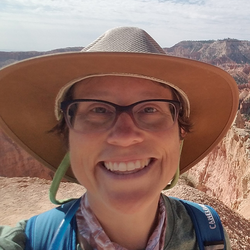 Department(s):
School of Integrated Sciences, Sustainability, and Public Health
Title(s):
Associate Prof.
Area of Specialization
environment, anthropology, sustainability, agriculture, Kenya, United States
Degrees: Ph.D., MA, Environmental Anthropology, University of Washington, Seattle, WA
B.A. Anthropology, Environmental Studies (Social Science Track), Washington University in St. Louis, summa cum laude
Bio: Dr. Megan Styles is an Associate Professor of Environmental Studies (ENS) and the current ENS Program Lead. She joined the UIS faculty in 2014 after completing a teaching post-doc with the Program on the Environment at the University of Washington. Megan's research focuses on sustainable development in Kenya and the United States, especially issues related to agriculture. At UIS, she is the faculty advisor for the UIS Community Garden and the student-led UIS Green Fee Committee. She loves working closely with students to make our campus and our broader community more sustainable. From 2018-2021, she served as the co-editor of Cultural, Agriculture, Food, and Environment (CAFE), a peer-reviewed journal published by the American Anthropological Association (AAA) and she is currently a member of the Executive Board for the Culture and Agriculture section of the AAA. Locally, she serves on the Lincoln Memorial Garden Executive Board and the World Affairs Council of Central Illinois (WACCI) Executive Board.
As a environmental anthropologist, Dr. Styles specializes in ethnographic and qualitative research. She has researched the social and environmental effects of cut flower farming in Kenya since 2004 and has worked with students to examine issues closer to home, including community gardening in Springfield and recycling behaviors on the UIS campus. Her current research project examines Illinois farmers' experiences with hemp production. She has also worked as an applied anthropologist with NOAA Fisheries and as an environmental educator with AmeriCorps.
Dr. Styles looks forward to working with students who want to use qualitative methods (e.g. interviews, surveys, participant observation, and participatory action research) or mixed methods (e.g. a combination of qualitative social science methods and natural science/quantitative methods) to examine the social, economic, and political dimensions of contemporary environmental problems (broadly defined) in the United States or abroad. Her masters and DPA students have examined issues as diverse as what motivates people to participate in marine citizen science programs, minority farmers' participation in farm-to-table initiatives, the social and ecological effects of yarsagumba (Chinese caterpillar fungus) harvesting in rural Nepal, and the use of children's books in environmental education. If you are interested in working with Dr. Styles, contact her at mstyl2@uis.edu.
Courses Taught: ENS 271 Introduction to Sustainability, ENS 411 Environmental Education, ENS 418 American Environmental History, ENS 448 Sustainable Food Systems, ENS 449 Agricultural Politics and Policy, ENS 550 Capstone Closure, ENS 552 Environmental Social Sciences and Humanities, PAD 654 Research Design.
Recent Publications:
ORCiD https://orcid.org/0009-0002-1532-190X; Google Scholar Profile
Books & Book Chapters:
Harper, David & Megan A. Styles. (accepted, forthcoming). Environmental Conservation and Sustainability: Rhetoric and Reality. In Agricultural Intensification and Resource Conflicts: Social Dynamics in the Lake Naivasha Basin, M. Bollig, G. Kuiper, & E. Kioko, eds. Leiden: Brill (forthcoming).
Styles, Megan A. (2019). Roses from Kenya: Labor Environment, and the Global Trade in Cut Flowers. Seattle: University of Washington Press.
Styles, Megan A. (2014). Horticulture in Harmony with Wildlife: The Awkward Marriage of Ecotourism & Industrial Floriculture in Naivasha Kenya. In The Ecotourism / Extraction Nexus: Rural Realities and Political Economies of (Un)Comfortable Bedfellows, Davidov, V. & B. Büscher, eds. London: Routledge, pp. 55-68.
Journal Articles:
Ramella, Anna Lisa, Mario Schmid,t & Megan A. Styles (2023) Suspending ruination: preserving the ambiguous potentials of a Kenyan flower farm, Journal of Eastern African Studies, DOI: 10.1080/17531055.2023.2231785. Available here.
Styles, Megan A. & Junfeng Wang. (2020). Adoption of Plastic Bag Ordinances in Illinois: Lessons for Municipalities Considering Legislation. Illinois Municipal Policy Journal 5(1): 91-112. Available here.
McEuen, Amy & Megan A. Styles. 2019. Is Gardening a Useful Metaphor for Conservation and Restoration? History and Controversy. Restoration Ecology 27(6):1194-1198. Available here.
Editorial Introductions:
Sen, Debarati & Megan A. Styles. (2021). Finding Hope in Food Systems During the COVID-19 Pandemic. Culture, Agriculture, Food, & Environment 43(2):79-80.
Styles, Megan A. & Debarati Sen. (2021). Agricultural Expertise, Market Connections, and Rural Futures: Regional Perspectives on Resilience. Culture, Agriculture, Food, & Environment 43(1): 2-3.
Styles, Megan A. & Debarati Sen. (2020). Anthropological Perspectives on Anti-Immigrant Policies and Food System Precarity in the Trump Era. Culture, Agriculture, Food, & Environment 42(2):70.
Styles, Megan A. & Debarati Sen. (2020). Crisis, Disruption, and Renewal: Diverse Approaches to Understanding How Communities Navigate Loss and Disconnection. Culture, Agriculture, Food, & Environment 42(1):2-3
Styles, Megan A. & Brandi Janssen. (2019). "Saving" Plant Genetic Resources (& Ourselves) in a Time of Accelerating Ecological Change. Culture, Agriculture, Food, & Environment 41(2):72-72.
Styles, Megan A. & Brandi Janssen. (2019). Transitional Moments, Mediators, and Alternative Modernities. Culture, Agriculture, Food, & Environment 41(1):2-3.
Janssen, Brandi & Megan A. Styles. (2018). Navigating the Middle Ground: Anthropological Investigations of Agricultural Practice and Scale. Culture, Agriculture, Food, & Environment 40(2):72-72.
Janssen, Brandi & Megan A. Styles. (2018). Agriculture, Anxiety, and Amazonification: Creative Adaptation and Resistance in Risky Rural and Urban Landscapes. Culture, Agriculture, Food, & Environment 40(1):2-3.
Government Publications:
Norman, K., J. Sepez, H. Lazrus, N. Milne, C. Package, S. Russell, K. Grant, R.P. Lewis, J. Primo, E. Springer, M. Styles, B, Tilt, & I. Vaccaro. (2007). Community Profiles for West Coast and North Pacific Fisheries - Washington, Oregon, California, and Other U.S. States. U.S. Dept. of Comm., NOAA Tech. Memo. NMFS-NWFSC-85, 602p.