At a Glance
Breaking down the demographics for the University of Illinois Springfield, 64 percent of all students are Undergraduates - 2,654. Graduate students compose 36 percent of the campus population with 1,492 enrollees. Fifty-six percent of all students are full time, while 44 percent are part time. The ratio of Females to Males is 52.5 percent to 47.5 percent.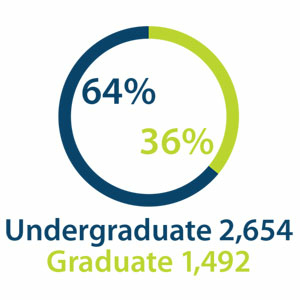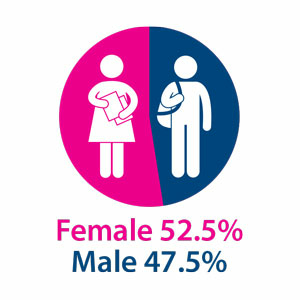 Make Connections
On a campus our size, you'll get to know your classmates as well as your professors and university staff.
SMALL CLASSES AND PROFESSORS WHO KNOW YOU 📚
We are the U of I university where classes are small (student-professor ratio averages 15:1) and professors know their students – not just their names but their strengths and their goals. Professors, not teaching assistants, teach our classes at both the undergraduate and graduate levels.
GOVERNMENT CONNECTIONS 🤝
Any visit to the Illinois Statehouse will mean you will cross paths with many UIS graduates.
LIVING ON CAMPUS 🛏
A safe, beautiful campus and the largest residence halls in Illinois. Visit us and you'll see we can back that up. Our townhouses are also highly sought after – offering private bedrooms, cathedral ceilings, high speed internet, and private parking lots. Comfortable apartments and family housing round out the residential offerings.
Racial Composition and Where Our Students Call Home
The racial composition of our students: less than 1 percent American Indian or Alaskan Native; 3.5 percent claim two or more races; 4.4 percent identify as Asian; 6.2 percent are International students; 8.9 percent claim Hispanic or Latinx nationality; 12.9 claim Black or African American heritage; 62.6 percent are white; and 1.4 percent identify as other.
Seventy-eight percent of our students come from the state of Illinois - with 25.9 percent coming from northern counties, 45.1 percent from central Illinois, and 4.5 percent coming from southern Illinois counties.
Twenty-two percent of students on campus are non-Illinois residents.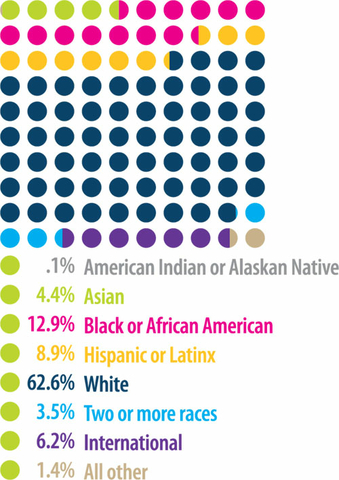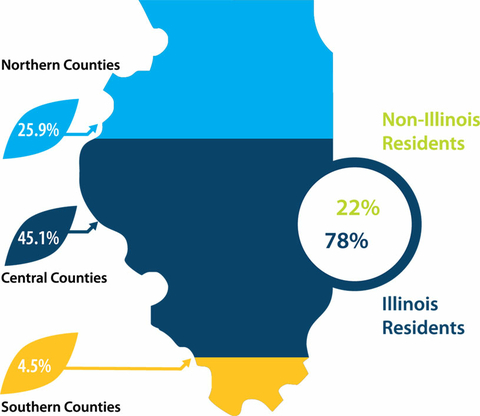 Opportunities
As part of a well-rounded, liberal arts education, we encourage students to become active in their communities and provide opportunities for them to do so.
RESEARCH OPPORTUNITIES 🔍
Both undergraduates and graduate students are not only invited but encouraged to share labs and projects with professors, and to publish and present alongside them. UIS is home to research institutes such as the Center for State Policy and Leadership and owns research facilities such as the Emiquon Field Station, where students work alongside scientists from the Nature Conservancy, documenting one of the largest wetlands restorations in the world.
Contact
We look forward to hearing from you! Call us if you have any questions or if you want to schedule a time to visit our campus.