Welcome to the Future of Campus Life. Introducing the UIS Mobile App!
Are you ready to transform your campus experience and unlock a world of convenience at your fingertips? Look no further than the UIS Mobile App, designed to revolutionize the way you navigate the University of Illinois Springfield campus. Packed with an array of features and offered on both Android and iOS, this app is your ultimate companion for seamless campus living. Let's explore why everyone should make the most of this cutting-edge tool.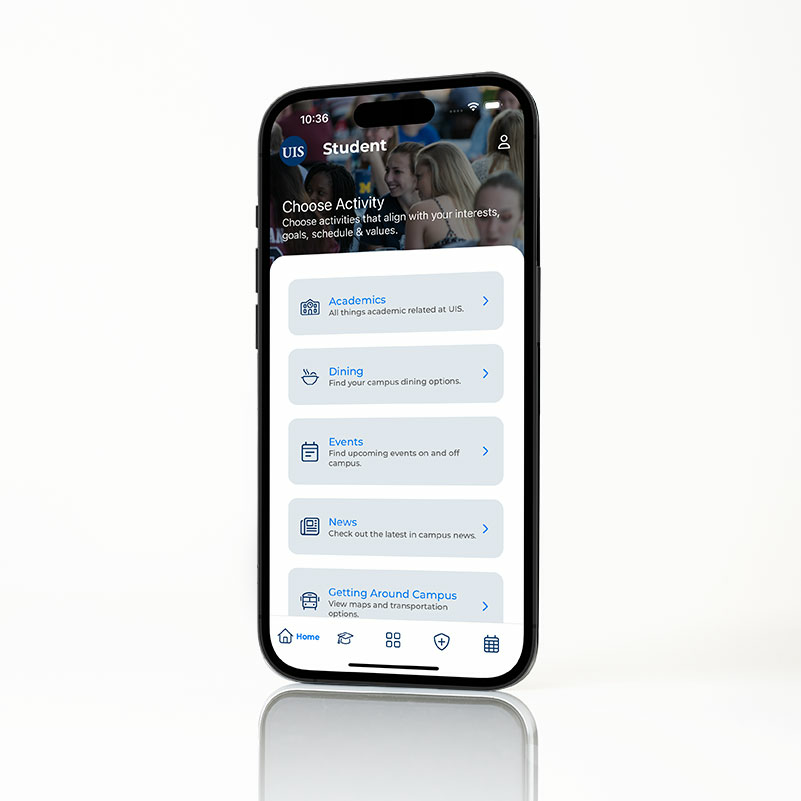 Easy Access to Campus Information
Stay up to date with the latest happenings on campus! The UIS Mobile App provides a centralized hub for all essential information, including campus events, UIS news, and dining options. Whether you're looking for an engaging workshop, a thrilling performance, or a delicious meal, the app has got you covered. Say goodbye to missing out on exciting campus activities!
Effortless Campus Navigation
Getting around campus has never been easier. The UIS Mobile App offers detailed maps, parking information, and guidelines on how to visit UIS. You can bid farewell to the frustration of searching for parking spots or finding your way to a specific building. Let the app be your personal navigator, guiding you to your destination with ease.
Advise U
Your Academic Success Assistant: With Advise U, the UIS Mobile App takes student support to a whole new level. This feature enables you to identify your academic advisor, schedule appointments, and even create a tentative drag-and-drop course schedule for an upcoming semester. Say goodbye to the confusion and stress of academic planning. Advise U is your reliable companion throughout your educational journey.
Seamless Academic Management
The future of academic information is at your fingertips. The UIS Mobile App features quick access to apps like Canvas, the university's learning management system. Stay organized and informed, no matter where you are.
Stay Connected and Safe
We prioritize your safety and well-being. The UIS Mobile App provides easy access to campus safety information, including emergency contacts, procedures and guidelines. Additionally, we are working to integrate RAVE Notifications into the app. Be instantly alerted about emergencies, campus closures, and other crucial updates. Your peace of mind matters to us.
The Possibilities Are Endless
As we continue to enhance the UIS Mobile App, exciting features are on the horizon. Imagine being able to view and update your i-card balance directly from the app, effortlessly managing your finances on campus. Integration with laundry machines will make it a breeze to check availability and monitor your laundry cycle. We are also exploring the possibility of integrating parking payment and availability information, ensuring a stress-free parking experience.
The UIS Mobile App is the future of campus living, designed to make your life easier, more connected, and safer. Embrace this revolutionary tool and unlock the full potential of your university experience. So, what are you waiting for? Join the UIS community in embracing the future of campus technology.
Download the UIS Mobile App today and embark on a new era of convenience and excellence!
---
Development Team
The UIS Mobile app development team consists of staff and student interns from Information Technology Services and the Office of Web Services.
Technical Support
The UIS Mobile app is supported by the Information Technology Services and the Office of Web Services. Please submit the Mobile App Support & Feedback form for technical issues or questions.
Related Resources