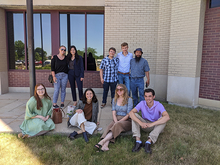 The Illinois Innocence Project at UIS has freed or exonerated 20 people since it was founded 20 years ago.
On campus in Springfield, it's known for the powerful display of flags each Wrongful Conviction Day in October, where one flag is displayed for every innocent person exonerated from prison.
But IIP also is known for giving both undergraduate and law school students real-world experience that shapes them into the next generation of defenders of the innocent.