The Illinois Innocence Project at UIS has freed or exonerated 20 people since it was founded 20 years ago.
On campus in Springfield, it's known for the powerful display of flags each Wrongful Conviction Day in October, where one flag is displayed for every innocent person exonerated from prison.
But IIP also is known for giving both undergraduate and law school students real-world experience that shapes them into the next generation of defenders of the innocent.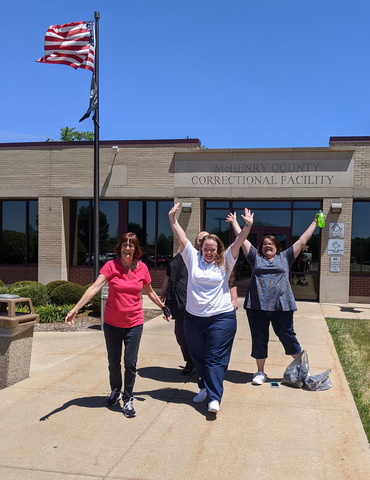 Undergraduate students have been a part of IIP since it started. They often work on cases, evaluating claims of actual innocence from unsigned clients. Some are interns, which are open to students in all majors, while others are volunteers who often stay on after an internship ends because they are so passionate about the work.
"We can teach anybody the basics, we can teach them to do the research," said Chrissy Ferree, IIP's program director of case evaluation. "We want people committed to social justice, committed to helping people who don't have any other avenues."
Law students have also long played a role at IIP, but an externship program that started in fall 2020 with the law school at the University of Illinois Chicago has formalized their role.
An externship is similar to an internship, but instead of coming from the host school, externs can come from other universities. IIP welcomes anywhere from two to six new externs each semester.
Maria de Arteaga, a staff attorney in IIP's Chicago office, runs the externship program. She meets with them weekly and teaches a class about innocence work. The externs also work in pairs on actual client cases, under attorney supervision, where they help with the research, case strategizing and the drafting of court documents.
"They get really connected to the case and the clients," de Artega said, noting some have stayed on as volunteers. "They are invested in the case. After their time with the formal externship is over, they want to stay on the cases."
There is no guarantee that someone will be exonerated during an internship or externship. But, Ferree said they stress to the students that "even if they didn't personally work on a case, they freed up someone else's time to do that meaningful work."
The partnership with UIC is working so well, de Artega said the law school is considering placing one or two students with IIP full time for a semester. And the externship program is a two-semester commitment so students don't leave just as they are becoming experts on cases.
Externships are useful for law students no matter what part of law they are interested in, de Artega said. It's good to be exposed to innocence work, she said, if they plan to work in criminal law as either a defense attorney or prosecutor. And those who work for larger firms usually have pro bono requirements; having experience now with innocence work may influence them to take similar cases later in their careers.
Interns and externs may work on a case and move on professionally, but then IIP staff tries to get in touch with them if someone is freed.
"There is a community feel about the work we do. We want students to feel like they were a part of that," Ferree said. "It's really hard to read all that information and not – you can't unknow it."
KNOW MORE
Learn more about the Illinois Innocence Project by visiting