When Sangamon Auditorium first opened its doors on Feb. 21, 1981, with Hal Holbrook's performance of "Mark Twain Tonight," it became a valuable arts resource for the surrounding area.
The venue was the result of a community effort to establish a performing arts center that would offer the highest quality of music, theater and dance performances. And in the 40 years since it opened at the University of Illinois Springfield, it has become the place for area patrons of the performing arts to see shows, musical acts and comedians, as well as home to the popular Class Acts program where children from 16 Central Illinois counties are introduced to the arts.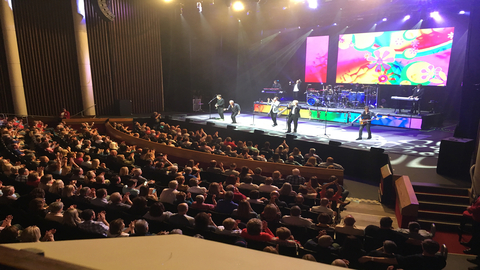 And it aims to do so for decades to come.
Like most venues, the Performing Arts Center had to hit pause for the past year due to the Coronavirus pandemic. But in a few months, the stages in the PAC are set to be alive again with shows, concerts and other performances.
Bryan Rives, director of Performing Arts Services & UIS Performing Arts Center, said that barring any new developments with Covid-10, the PAC is set to be at full operation after Labor Day. Visitors are encouraged to go to the Performing Arts Center site to see what, if any, mitigations are in effect at the time they plan to attend a performance.
Rives said people appear ready to attend performances.
"Tickets are selling as they were before. People are ready to get back to live entertainment," he said.
Educational efforts are ramping back up too. The Class Acts program will start in late winter or early spring. Betsy O'Brien, Performing Arts Education Connections Coordinator, said she anticipates an exciting season that mixes classic children's books with some historical stories.
"We are so excited to have the kids coming back and experience live, professional theater," she added.
Even during the pandemic, the performing arts still occurred at UIS. Reserve funds from the Friends of UIS Performing Arts Services made it possible to purchase $20,000 in live-streaming technology for the Studio Theatre.
"The live-streaming equipment went from concept to needed very fast," Rives said "We were very fortunate that past donors had contributed and made that possible."
UIS Music held recitals. The Auditorium hosted a presentation with the Illinois Symphony Orchestra. A community piano recital was held where students came in one at a time and played a few songs. Each was recorded then edited into one performance.
"The kids just had a ball," O'Brien said. "Our staff who have learned how to do this live streaming stuff, they are just phenomenal. I am in awe of what they have done. They filmed them so beautifully."
O'Brien said they also streamed performances for the Class Act series. And there was a sense of accomplish when UIS was able to help area Head Start programs. UIS annually receives a grant that allows students in 27 Head Start classrooms to annual take in two productions on campus. UIS staff also visit their classrooms twice a year. This year, the grant was written to get technology for those classrooms so that program could be done online. It also helped facilitate the learning of those kids in other areas, since they could use that technology for other purposes.
Rives noted that the response from patrons during the pandemic buoyed spirits of PAC staff. Last spring there were about $110,000 in ticket sales for the Broadway shows that had been scheduled. A refund was offered – but so was the option to turn the ticket value into a donation to the UIS Friends of the Performing Arts.
"About 30 percent said, 'Keep the money, make it a donation,'" Rives said. "That was just fantastic."
And patrons were understanding about why shows were postponed or canceled.
"In a normal world, I would expect emails of complaint from patrons," Rives said. "But everyone understood and said, 'Just let us know when the shows would happen.' We appreciate everyone's continued understanding."
As the PAC celebrates 40 years, Rives said they continue to look to the future. A major lobby renovation is high on the wish list, which would require $2 million to $4 million.
"The thing we focus on UIS PAC is increasing quality of life in the community," Rives said. "People expect things like good schools and parks. People deserve a vibrant performing arts community. We provide two world-class venues, and work hard to bring in great productions. We realize a lot of people can't get up and go to New York and do a Broadway show, or go to Chicago for a concert. We are bringing those shows to the community."
Thanks to donors, Rives said the PAC is able to keep ticket prices affordable. The lowest price for a single Broadway show is $24. With a subscription, last season a five-show package could cost as little as $14 a ticket for a national touring Broadway show.
"You can't do that in Chicago or St. Louis," Rives said. "We are dedicated to making sure everyone can participate in the performing arts in our community."
KNOW MORE
Anyone interested in learning more about upcoming shows should join the mailing list by visiting the Performing Arts Center website and clicking on the "email club signup" along the top of the page.
To become a patron of the performing arts visit the Friends of UIS Performing Arts Center.