CPAE Faculty Spotlight
Dr. Meghan Kessler, School of Education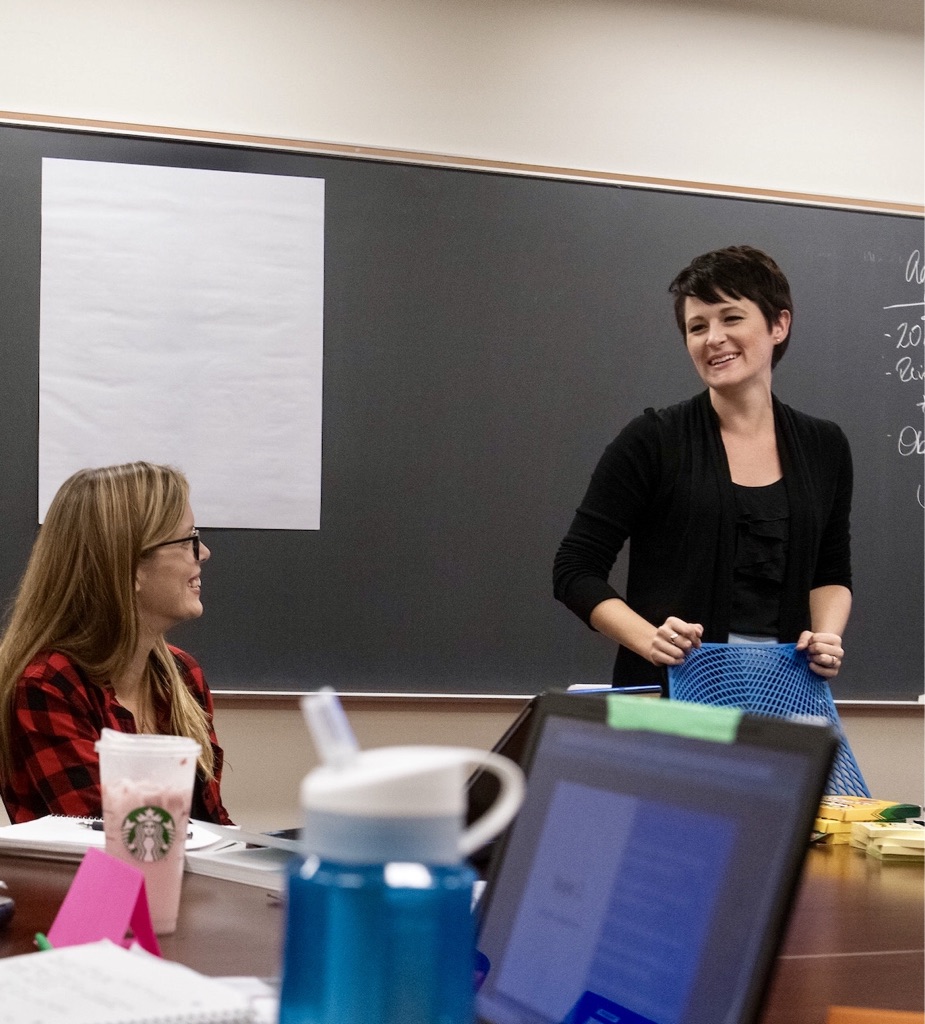 Greetings, I'm Dr. Meghan Kessler! I am currently an Assistant Professor of Teacher Education in the UIS School of Education where I conduct research on teacher education practice and policy, and teach courses on social studies education, classroom assessment, and student teaching. I also hold an appointment with the University of Illinois System's Institute of Government and Public Affairs as a Collaborating Scholar and Co-Group Leader for the Education, Learning, Child and Family Well-Being Working Group.
I joined the faculty at UIS in the fall of 2018 after receiving my PhD in Curriculum and Instruction from the University of Illinois at Urbana-Champaign. Before earning my PhD, I taught middle and high school social studies in several districts across the state of Illinois. These districts represented the diversity of the state itself; I taught in both rural and urban communities with students of diverse cultural and linguistic backgrounds. As we approach the end of the fall 2022 semester, I'm grateful for the opportunity to introduce myself and share a bit about what I've been up to!
As a careerlong social studies educator, I have always been fascinated by the role of policy in teachers' experiences. Teachers are not simple technicians. Our work is culturally and socially consequential, requiring knowledge of everything from race and language to developmental stages and state policies. To enable better understanding of these complexities, my central research trajectory investigates teachers' enactment of state and district policies.
Most recently, this has led me to investigate the implementation of new state standards for educator preparation. These standards are aimed at supporting the education of preservice teachers (and other preservice school personnel) who are culturally responsive. While culturally responsive teaching was introduced nearly 30 years ago by Dr. Gloria Ladson-Billings, these state standards represent a new turn in educator preparation policy. Early findings from this study show the impact of political discourses on the development and implementation of the standards. While developers saw potential for the standards to be "a beacon for the nation," there was fear that misunderstandings about the concepts presented in the standards could lead to shallow interpretations and politicized pushback. I was fortunate to receive a grant from the UIS Institute for Legal, Legislative, and Policy Studies to support this study and will be presenting the results at the 2023 meeting of the American Educational Research Association.
I am also collaborating with Dr. Betsy Goulet and several colleagues from Loyola University and the University of California Berkeley on a statewide school reform initiative supported by a grant from the Illinois State Board of Education. This initiative is aimed at reducing racial disparities in exclusionary discipline in school districts across the state. As part of this initiative, I will be leading a qualitative investigation of teachers' experiences during the implementation of the reforms. This research project is in the very early stages, but I hope it will provide a look into the complexity of teachers' lives and work with students since the outbreak of the pandemic. I also hope my involvement in this project will serve as a springboard for new opportunities for my future students.
My relationships with students have been the most rewarding and joyful elements of my work since I began my career in education approximately 15 years ago. It's thrilling to welcome new teachers into the profession, and students are often partners in my research, serving as inspiration, participants, and co-authors. I also endeavor to model a teaching approach that is warm, collaborative, accessible, and inclusive; grounded in social justice principles, facilitated through social-constructivist methods, and characterized by a relational, inquisitive approach. This means I do my best to "walk the walk" in my teaching, asking students to engage in real-world application of the practices, research, and theories we explore in class.
Many of our School of Education graduates are teachers in the local area, and I am immensely proud when I can observe the work they are doing. It's an incredible privilege to support them as they develop their skills as new teachers and see them making a meaningful impact in their communities.