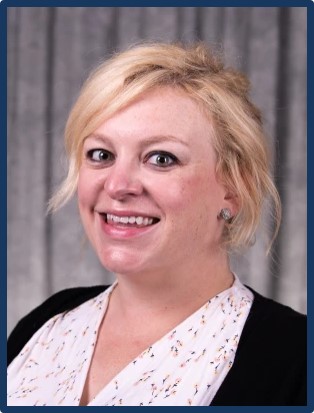 Vanessa Ferguson
Production Coordinator – NPR Illinois
Center for State Policy and Leadership
What does your position entail, what do you like most about your job or what motivates you to wake up and go to work?

I love walking into the NPR studio and seeing the awesome people I work with. I also love when I can sit down with a community member and have a heart-felt conversation about what inspires them.
What drew you to your current position?

During the pandemic I had an amazing opportunity to interview Disney creatives on the Beyond the Mouse podcast, a show I co-host with Craig McFarland and Brett Rutherford. When the opportunity to join the Community Voices team presented itself, I had just finished interviewing Anthony Daniels, the actor who portrays C-3PO in the Star Wars franchise. It's been a dream of mine to work for NPR, but I was nervous about interviewing people in Springfield. However, after some encouragement from my podcast partners, I realized that if I could interview a robot from a galaxy far, far away, I should have no problem interviewing people from my hometown!
What has been your favorite project thus far?

Outside of some wonderful interviews where I learned more about outstanding people in the community, I really enjoyed the opportunity to teach the UIS UNI 101 class with Bea Bonner. We made a great team, and it was fun to pass on our knowledge about working in radio.
If you could learn to do anything, what would it be?

I am currently a graduate student in the MBA program at UIS. So, I would just be happy learning more about business and leadership. I'm not sure where it will take me, but hey, at least I'll better understand what happens on Shark Tank.
What do you like to do when you are not working?

I love attending concerts and shows. I most recently saw Genesis perform at the United Center, and I'm looking forward to seeing Ben Folds perform with the St. Louis Symphony. I also love playing with my sweet puppy Figaro, and I really enjoy listening to audiobooks and NPR podcasts like This American Life and Radiolab.
If you could choose anyone, who would you pick as your mentor?

Hands down, I'd pick Fresh Air's Terry Gross. She's an incredible interviewer.
What's a fun fact about you many people may not know?

Occasionally I perform on stage. I prefer opportunities to sing jazz, but every now and then I'll perform in a musical or as a part of Capital City improv.
What is your motto or personal mantra?

When dealing with moments that are a little embarrassing, I tell myself "if it's funny, it's fair," which means if I fall on the ice, get attacked by a goose or bucked off a donkey (yes, all these things have happened), it's not going to ruin my day. If it has the potential to invoke a laugh, or just a smile, I'm probably going to tell you about it.
Any favorite line from a movie?

"When life gets you down you know what you've gotta do? Just keep swimming" – Finding Nemo