The University of Illinois Springfield, Junior League of Springfield and the United Way of Central Illinois honored more than 50 Sangamon County volunteers, businesses and organizations during the 15th annual Good as Gold Ceremony on April 24, 2023, in the UIS Student Union.
The Good as Gold Ceremony was started in 2008 to honor people, businesses and organizations who freely give their time and talents to make Sangamon County a better place to live.
Distinguished Volunteer Award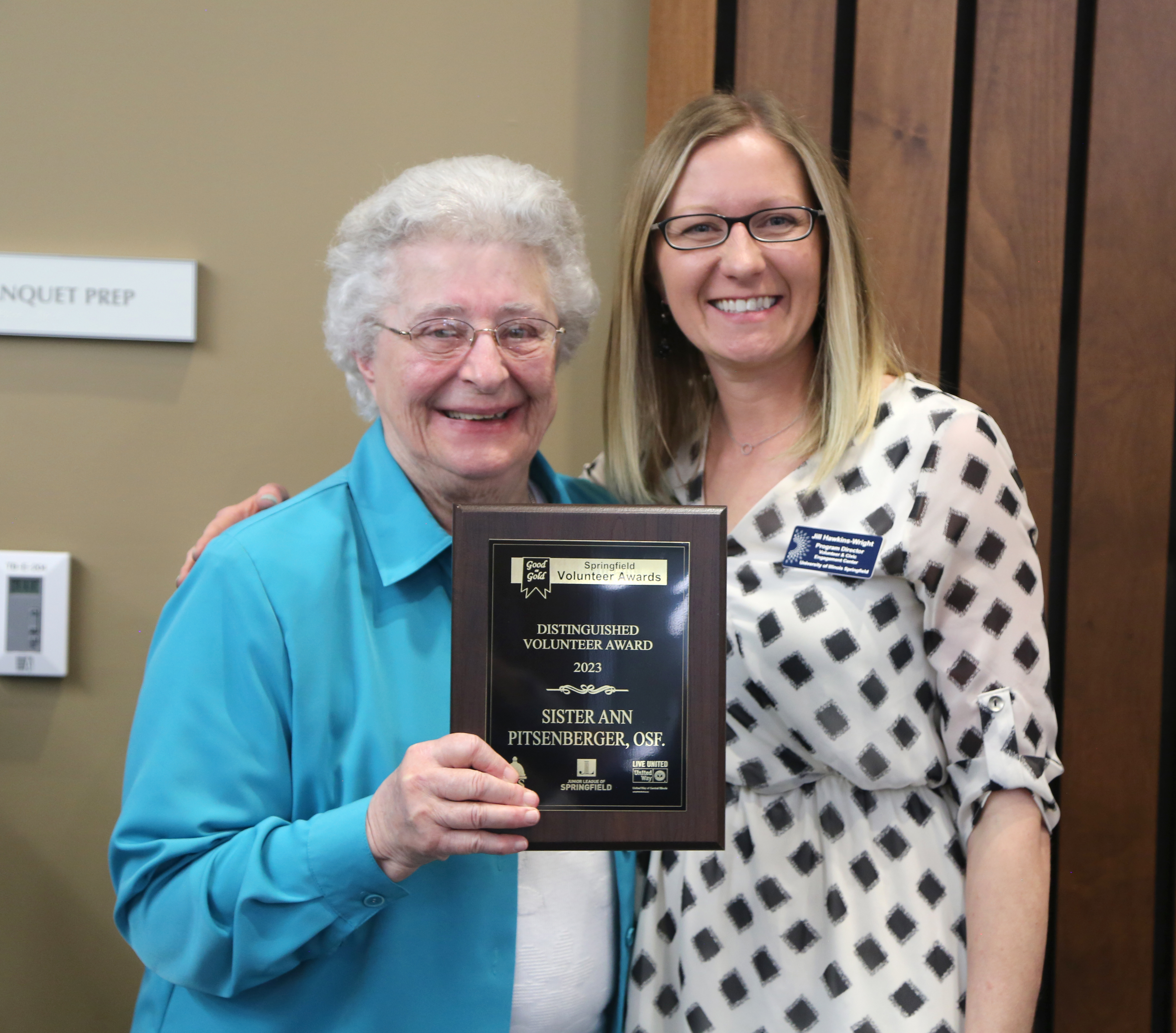 Sister Ann Pitsenberger of Springfield was honored with the 2023 Distinguished Volunteer Award. As a Hospital Sister of St. Francis for more than 70 years, Pitsenberger has been blessed and rewarded in her service to others.
"I have learned in the Peace Prayer of St. Francis that 'it is in giving that we receive,'" she said. For her, the most important aspect of volunteering is in giving and helping others, whether at home or abroad.
Pitsenberger has worked with Hospital Sisters Mission Outreach as a volunteer since its inception in 2002. She served on the leadership team when it was founded and served as the first chair of the newly formed corporation's board of directors.
"When I finished my term on the board, I began working to secure donors for our various fundraising activities," she said. "I helped raise $76,000 in 2009. In 2018, that amount increased to $307,000. This organization has become one of the leading medical services and resource organizations in the U.S., serving over 95 countries."
Over the years, Pitsenberger has served on the board of directors for HSHS St. John's Hospital, Pregnancy Care Center of Springfield and the Ronald McDonald House. She was also involved for several years as a coordinator for the HSHS Larry Mathews Mission Outreach Fellowship Program.
Currently she works with a Ukrainian student, assisting her in learning English. "I believe that we are called to share what we have been given with others, and volunteering is my way of responding to that call," she said.
The 2023 Distinguished Volunteer finalists include Carolyn Blackwell and Katherine Germeraad.
Star Student Award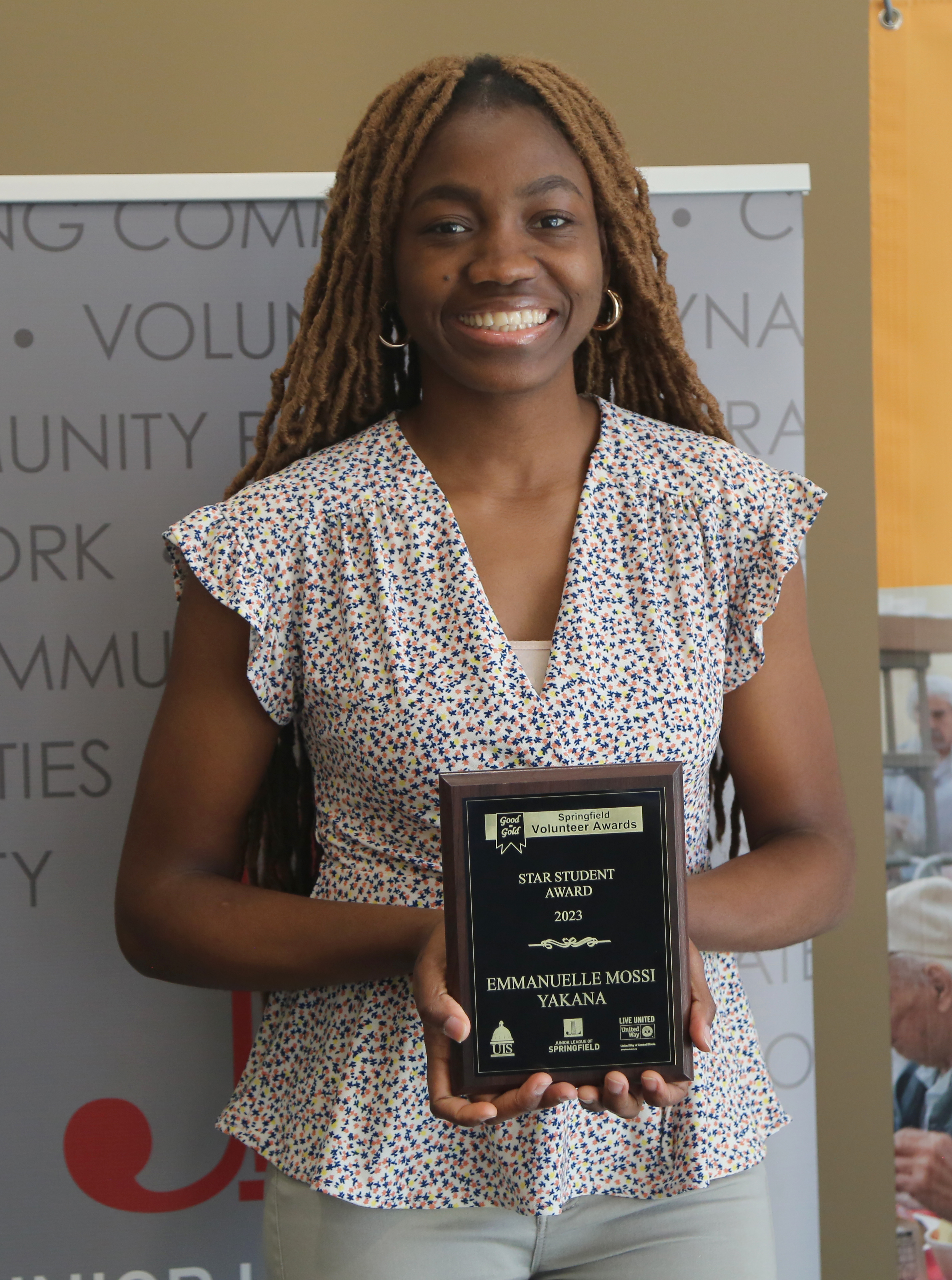 University of Illinois Springfield senior public administration and political science major Emmanuelle Yakana of Gabon, Central Africa, was honored with the Star Student Award.
"The most important aspect of volunteering for me is doing everything with joy and doing it well," she said. "As you volunteer, you are not remunerated for it, yet you must give it your all, and you must do it well because it is out of your will that you decided to serve, and surely you will see the fruits of it."
During her time at UIS, she has volunteered with numerous organizations, including three international student organizations.
"I have worked with the International Student Friendship, University Bible Fellowship and International Student Association, in which I have been serving as
president, public relations, student officer and student member," she said.
"My role in these organizations consists of standing as point of contact to allow new and returning students to get plugged into communities that will do life with them in the United States and provide them with the resources they need to thrive here in Springfield, and at UIS in particular." Yakana also helps lead worship during the Christian services these organizations hold.
Other organizations Yakana is connected to include the Faith Coalition for the Common Good, a local nonprofit organization that works to establish racial equity in the community. She also currently serves as the student government association president.
"In that, I serve and represent the student body in conversations with the administration that pertain to student needs here at UIS," she said.
Star Staff Award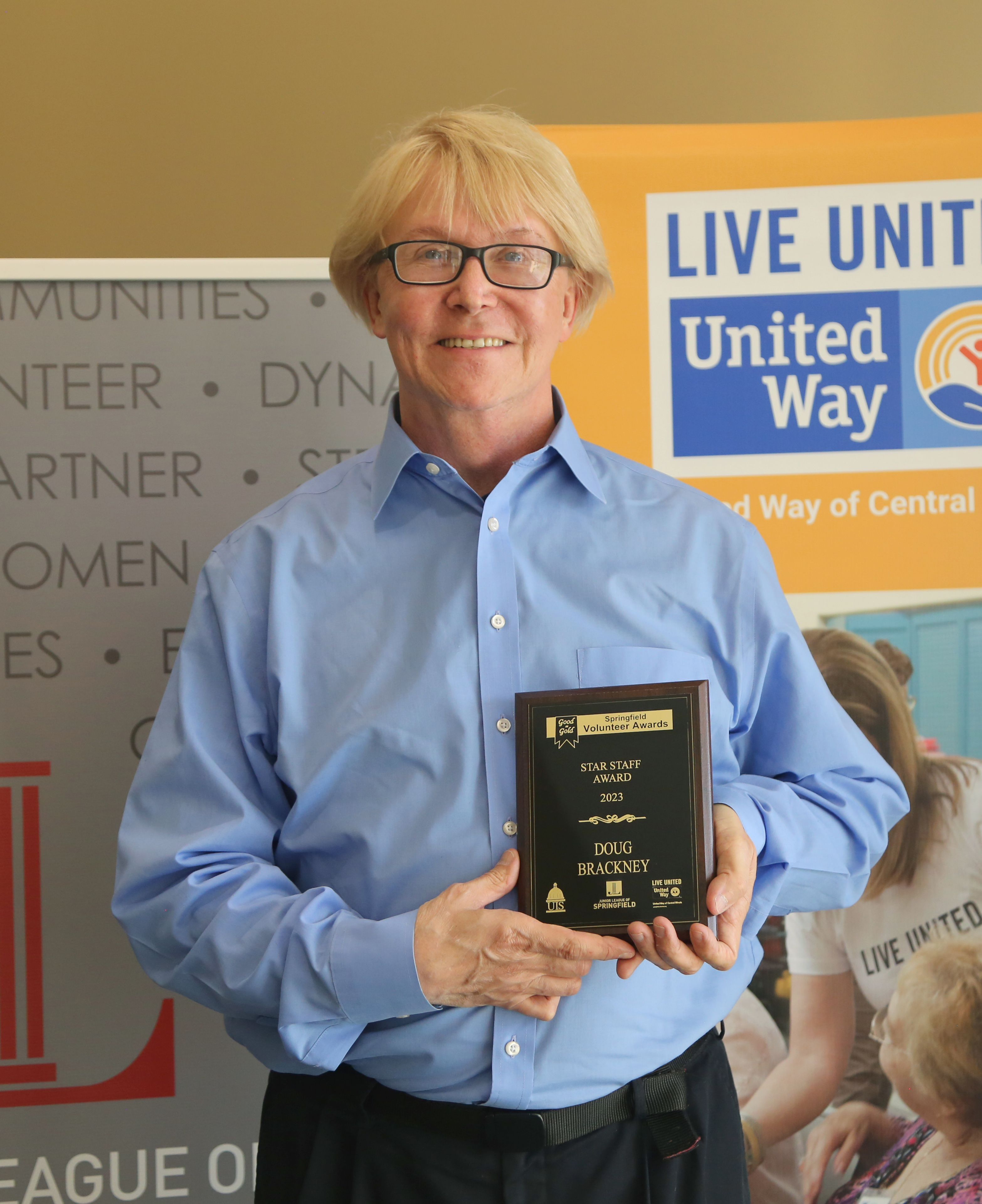 Douglas Brackney, an administrative aide for the UIS Career Development Center, was honored with the Star Staff Award for the variety of ways he volunteers and supports students and the community. Brackney participates as a council member on the Faculty & Staff Campaign, the State and University Employees Combined Appeal (SECA) campaign, the Dr. Ford Emergency Fund and the Student Employee of the Month committee. "I love the opportunity to recognize our talented students at UIS," he said.
Brackney was raised in the 1960s in Dieterich, Illinois, where he learned the value of volunteering. "I don't really think about what I do as volunteering, but as sharing. Sharing with others was instilled in me at an early age," he said. "My parents were excellent role models for living their values by volunteering and giving. As a young person, I volunteered at our local church and in the community. Now I have a greater insight to how valuable visits are to an aging population."
When it comes to volunteering, the connections are most important. "I visit two dear friends in their 90s at local nursing homes on a weekly basis. When I walk into their rooms their faces light up, and I feel special," Brackney said. "For three hours they lavish me with words of love, and I am blessed by them. It's not volunteering; I am not giving up an afternoon; instead, I am visiting with friends."
Brackney has also volunteered at Unity of Springfield Church for 12 years helping provide meals to the Springfield Overflow Shelter.
"I bake desserts each month for 70 individuals," he said. "It's fun, and I get the opportunity to share my talents and skills with others."
The other finalist for this award were Craig McFarland and Robin Vansacik.
Youth Volunteer Award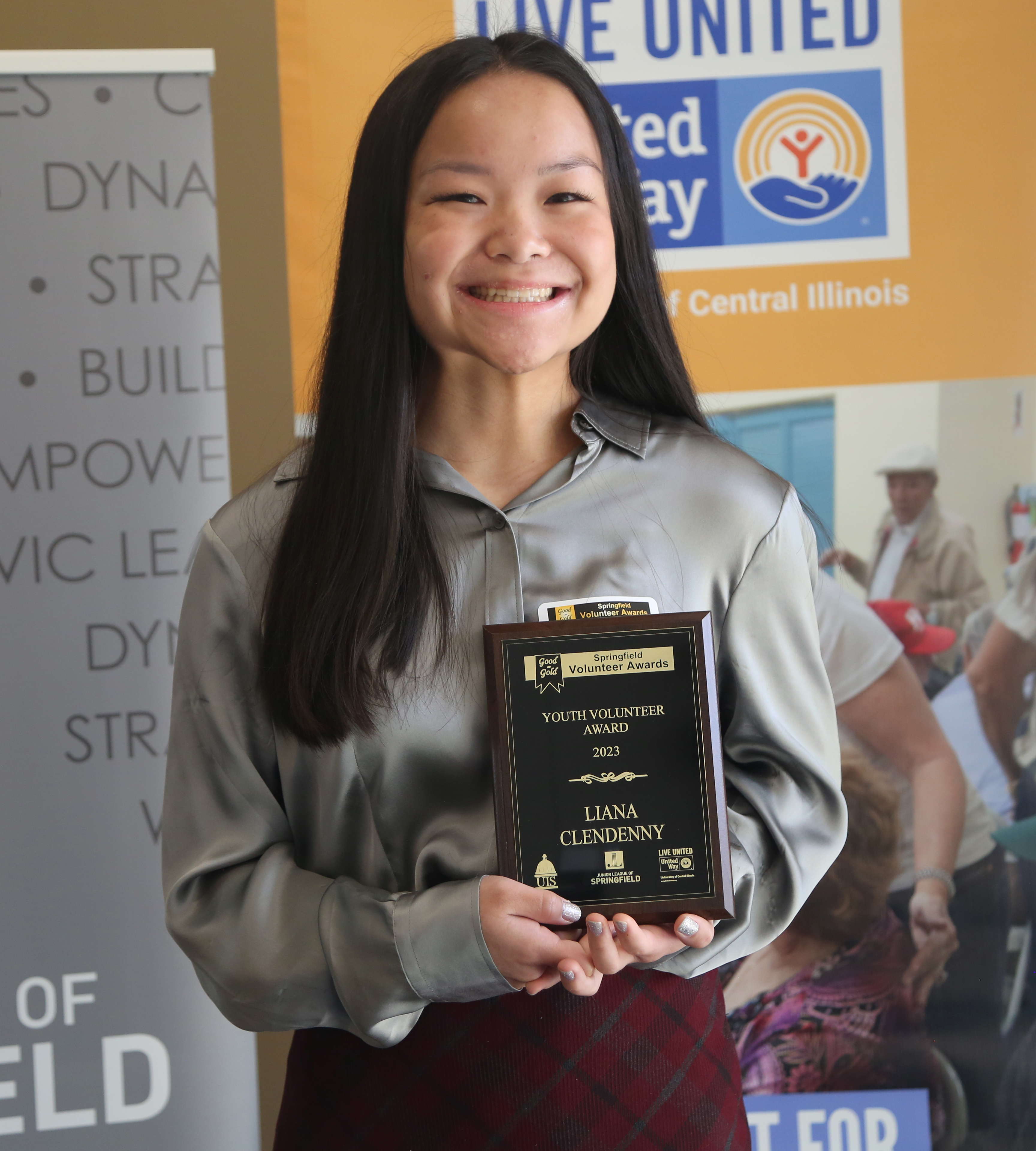 Liana Clendenny, a senior at Glenwood High School, was honored with the Youth Volunteer Award. For her volunteering means giving back to the community, especially to those in need.
"I feel so privileged to have a family, food to eat and a place to live," she said. "I know that many people within my own community are not that fortunate, so I view volunteering as an opportunity to make their lives easier. Volunteering also means building connections with members of my community. I have been able to meet many wonderful people through the organizations I volunteer for, as well as strengthening relationships with friends and family members who have volunteered with me."
Clendenny has given a great deal of time volunteering for several organizations during her high school years. She actively volunteers for The James Project, which works to support foster families in Sangamon County by assisting with housing, parental support and children's provisions.
"I have also volunteered for Habitat for Humanity, Fight for Air Climb, Memorial's Festival of Trees, the Honor Flight and at my church," Clendenny said.
Other finalists include Abigail Churchill, Greta Lopp, Izabell Reeves and Matthew Scott.
Heart of Gold Community Awards
Twenty-four volunteers were also honored with the Heart of Gold Award. Recipients included: Fumika Brudnak, Rachael Buraski, Patricia Carley, Mary Cumming, Evan Davis, Marissa Deweese, Carl Fryman, Taryn Grant, Cheryl Harvey, Michael Hortsman, Carol Jessup, Mary Kyes, Connie Lorenz, Emily McVeigh, James (Jim) Moser, Mary Ann Pohl, Ty Rees, Lori Roate, Donald Scribner, Stacey Skrysak, Beth Waldman, Nancy Wall, Jody Wallace and Ralph Welch
Organization of the Year Award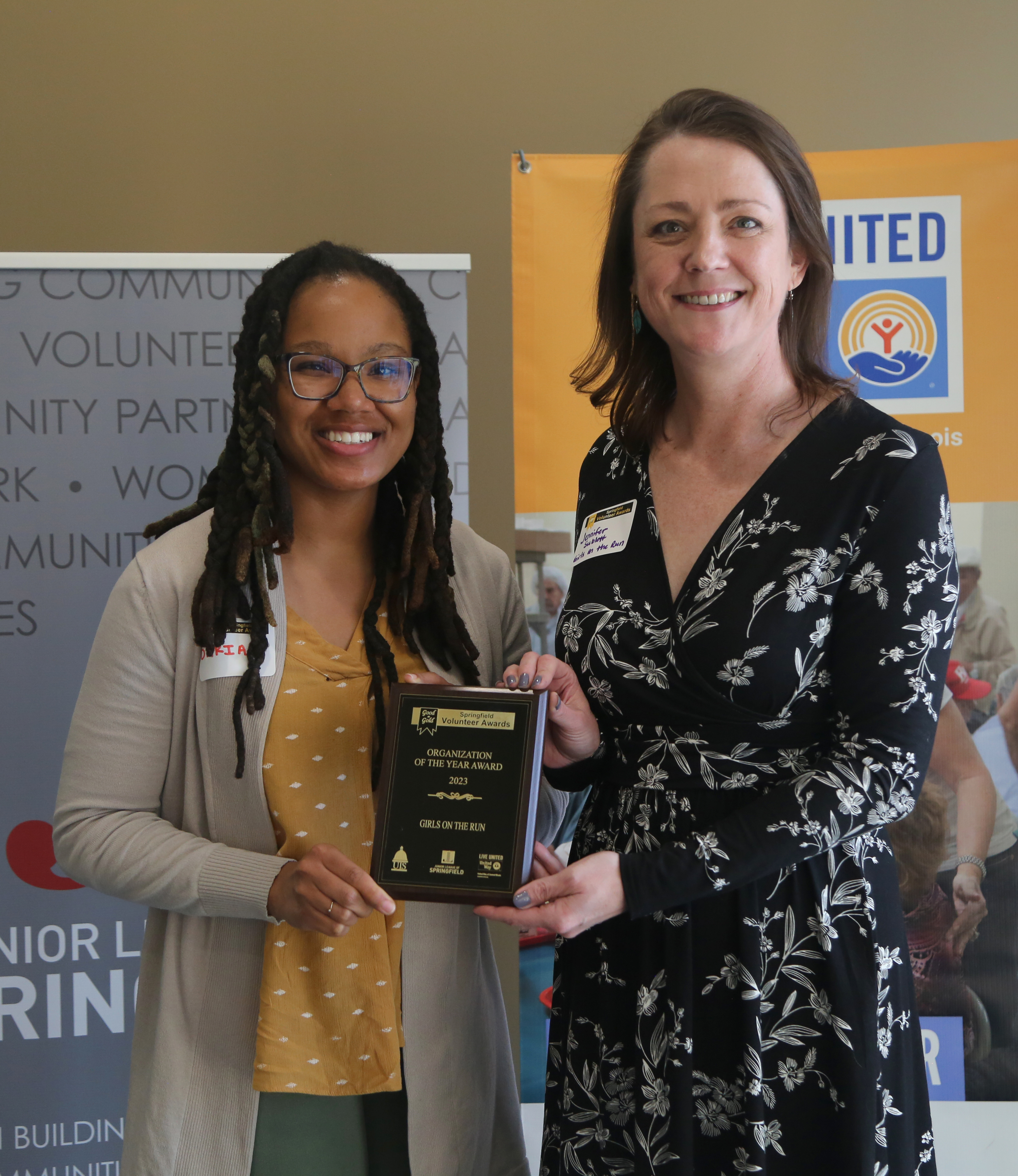 The winner of the 2023 Organization of the Year Award is Girls on the Run of Central Illinois, a fun and effective afterschool program designed to enhance girls' social, emotional and physical skills and behaviors to successfully navigate life experiences.
Twice per week for 10 weeks, trained coaches lead small teams of third to fifth grade girls through the program's intentional curriculum that creatively integrates running.
"Our organization relies on the support of trained, volunteer coaches to lead our afterschool program," said Jennifer Sublett, executive director. "This year our coaches and 5k event volunteers will provide more than 11,500 hours of service to mentor and support the girls in our program. We would not be able to serve over 700 girls each year without our volunteer leaders."
Sublett strives to simplify the volunteer experience by providing all program materials and curriculum, as well as support, throughout the 10-week program season.
"We want our volunteers to be uplifted by their experience, whether they are coaching a program season or helping for a few hours at our season-culminating 5k event," she said.
Each Girls on the Run team designs and completes their own Community Impact Project. Four of the 20 lessons are dedicated to helping the participants brainstorm, plan and execute their project, while also learning about teamwork and cooperation.
"This spring we have 28 teams, which means 28 projects will be completed in central Illinois," Sublett said. Projects may include making blankets for the area children's hospital, preparing hygiene kits for the homeless, spring clean-up day at their school, teacher appreciation parties or cards for veterans, just to name a few.
"Girls on the Run empowers young girls to become strong women," Sublett said. "Participating in Girls on the Run transforms girls' lives by helping them increase their self-confidence, develop healthy relationships and feel good about themselves, inside and out. Girls on the Run reaches girls at a critical stage, strengthening their confidence at a time when society begins to tell them they can't."
Business Honor Roll
A total of 16 Sangamon County businesses were named to the Business Honor Roll. The honor roll recognizes businesses that have made giving back to our community a priority. Awards were divided into four categories: businesses with 1-10 employees, 11-50 employees, 51-150 employees and more than 150 employees. One business in each category received the honor of Golden Distinction.
Businesses honored with 1-10 employees includes AlignLife of Springfield, Gem PR & Media, Illinois Local, Smart Owl Coffee, Tails to Remember Pet Services, The Storyteller Studios and Unleash'd Canine Academy. The Golden Distinction was awarded to Formea Insurance Group. The company actively supports Titan Fuel, the Chatham and Springfield Jaycees, Hope Institute and a multitude of athletic and extracurricular organizations that help children develop social-emotional and leadership skills.
In the 11-50 employee's category, Central Illinois Society for Human Resources Management was honored with the Golden Distinction. The organization has been involved in several community events over the years including food drives, professional clothing drives and has giving time to assist job seekers.
Marine Bank received the Golden Distinction award in the 51-150 employee's category. Other businesses honored include Kerber, Eck & Braeckel LLP (KEB) and Heartland Credit Union. Two causes that Marine Bank is particularly passionate about are finding opportunities to offer financial education and teaching people the skills they need to become financially independent.
The following businesses with 150 employees or more were honored: Concordia Village, SCHEELS and Springfield Memorial Hospital. Bank of Springfield received the Golden Distinction designation. In 2022, Bank of Springfield supported more than 200 organizations and events including the Caddyshack Open, a charity golf tournament. BOS also helps with The Springfield Project, which collaborates with public and private partners to facilitate community development and revitalization, foster diversity development initiatives and support community problem-solving efforts.
All photos are courtesy of John Honnen