It's not unusual to see a dog kennel in a house. But students taking classes in the Child Advocacy Studies program at UIS are learning how to look past what's normal for signs of something amiss.
Something that might save a life.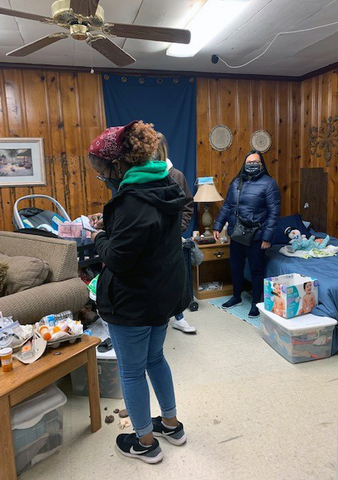 In a recent simulation situation at the Child Protection Training Academy on campus, for instance, there were stuffed animals, toys, blankets and food items in the dog kennel. Students – who are likely to pursue careers in the child welfare field and may very well find themselves facing such a situation – are challenged to think why that might be OK. Could it be, perhaps, where a child goes to feel safe during a thunderstorm?
What Betsy Goulet, coordinator of the UIS Child Advocacy Studies Program, wants the students to notice is what is in front of the kennel. Zip ties. That doesn't fit the thunderstorm theory.
"They see the kennel and you can almost see the brain pause," said Amy Wheeler, director of the Child Protection Training Academy. "We talk about using that moment, when they have that confusion, that's an indicator you need to be asking more questions."
UIS was one of the first universities in the country to use simulation for child-based protection training work. As with many programs here, providing the life-like experiences for those who will work with at-risk families embraces the University's mission of doing good for the public. UIS trains both its students who are studying for a certificate or the new minor in Child Advocacy Studies as well as new investigators for the state's Department of Children and Family Services how to spot signs of potential child abuse in residential settings.
The simulation lab is in an actual house that sits just north of the main UIS campus. The professionals going through the training have to drive to the house, just like they will when they are out in the field. Simulation labs are still considered cutting edge in the field, and Goulet and Wheeler said such training is essential.
"To me, that's the magic of simulation," Goulet said. "They have to think through all the scenarios of what could be happening in the house. Because all you get is a snapshot. You don't get the whole picture, but you better get enough so that you can make good decisions about a child's safety."
Keeping the children of Illinois – and the caseworkers who aim to protect them – safe is a job Goulet, Wheeler and their team take very seriously. The pandemic required them to get creative in order to provide that same level of life-like experience when the trainees couldn't be there in person.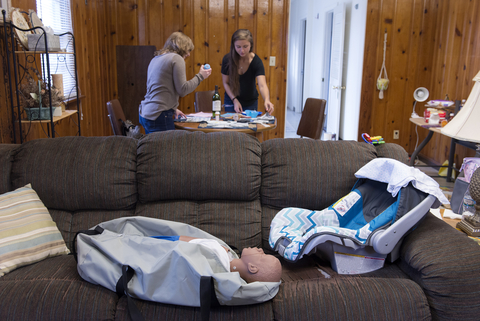 The university's IT department, already great partners with the program, created a virtual tour with a 360-degree camera – similar to what real estate agents use on websites to give virtual house tours – to create a virtual landscape of the simulation house so students could go through each room online, zooming in to look for risk factors.
Now that staff are back in person, participants tune in virtually over Zoom while staff serve as a proxy in the simulation lab. The proxy wears an iPhone, iPad or Kindle on a device, taking the participants through the house with trainees asking the proxy to turn a certain direction, or zero in on a certain aspect, as they go through the house. It's required students to better articulate what they want to see, Goulet said.
"We did that in a very short amount of time," Goulet said. "We had to quickly adapt. Child maltreatment didn't go away (during the pandemic). We were getting reports of the serious concerns people had, because teachers were not able to interact with children and report if they suspected abuse. We had to get investigators trained. We couldn't waste time."
They did so well, other states reached out to them to find ways to replicate their work. Still, not everything can be online. Smells, Wheeler noted, cannot go through a camera lens. And those are an essential part of their work too.
UIS students have returned to in-person instruction, and Goulet and Wheeler hope the training for new investigators for the state are back soon too.
Goulet said their dreams for the program include another building on campus to house a larger and improved simulation lab. The program cannot continue in its current location with all the requests they receive from agencies for training. Every other industry uses simulation to teach, and that should be the norm in child protection work as well.
"You don't get on a plane without trusting that your pilot had hours and hours of simulation," Goulet said. "You shouldn't send someone to knock on a door and be expected to recognize possible child abuse without simulation."
KNOW MORE
To learn more about the Child Protection Training Academy, visit https://www.uis.edu/cast/
To make a gift to this important work, visit https://go.uis.edu/ChildAdvocacyFund