A week before the end of spring semester, chemistry students gathered near the 3D printer in the back of a computer lab, watching closely as the machine whirred. The extruder moved back and forth in small, rapid motions, shaping blue filament into various molecular models the students had designed. For many, it was their first time using such a printer.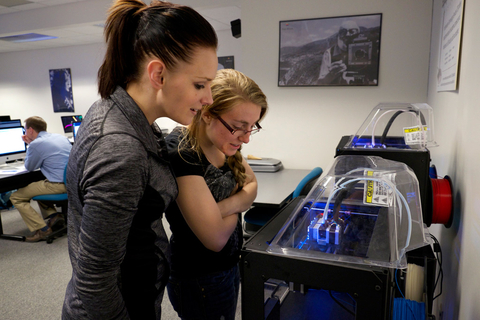 "I never thought that I would have an opportunity to experience something like that in college," UIS senior Michael Rosenberger said. "I have only seen 3D printing on TV prior to this experiment and it was amazing to be able to experience it in person."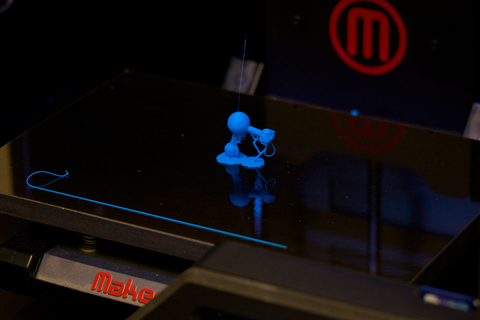 Keenan Dungey, associate professor of chemistry, decided to dedicate a class session to 3D printing because polymer chemistry, commonly called "plastics," is important in the field of chemistry, and was recently highlighted as such by the American Chemical Society's (ACS) Committee on Professional Education.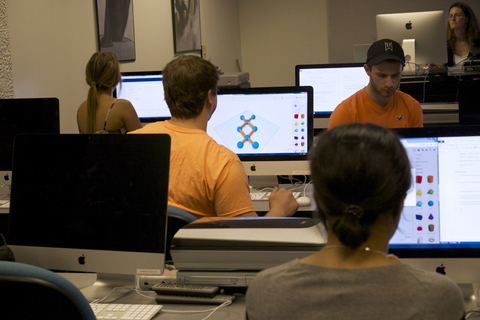 The seniors in Professor Dungey's inorganic chemistry course had been studying polymers throughout the semester. "I thought the students could learn the practical application of polymer properties, such as thermoplasticity (increasing ability to flow with heating) by using the 3D printers at UIS," he said.
When a design is sent to a 3D printer, the printer pulls plastic filament into the extruder, which heats it up and delivers the melted filament layer by layer until the design is finished—thermoplasticity in action.
"Providing 3D printing capabilities at UIS gives our faculty and students an opportunity to experiment with this new technology and its potential impact on the teaching and learning process," said Kara McElwrath, assistant director of client services in Information Technology Services.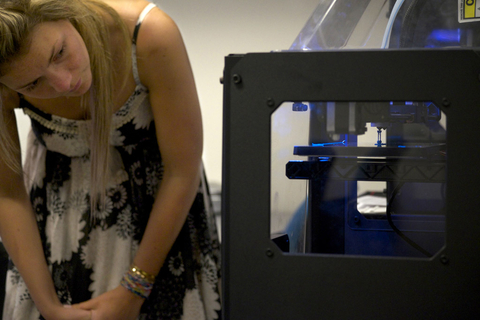 The students in Professor Dungey's class designed molecular models they had learned about in previous courses. He says it was a great way to end the semester, and to help the students finish their ACS certified degrees.
"Programming the design on the computer was somewhat difficult, but it reinforced the concepts we have been learning throughout the course of our chemistry curriculum" Rosenberger said.  "I can honestly say that I have had valuable exposure to all areas of chemistry through my coursework here at UIS."
---
ITS is excited to make 3D printing and 3D scanning available at UIS! ITS Client Services, located in the lower level of Brookens Library, has a MakerBot Replicator 2X and a MakerBox Digitizer available for course-related projects.
For more information: