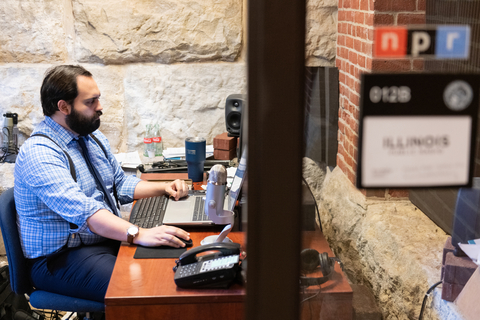 A headline in the Wall Street Journal caught my eye last week:  "Journalism schools leave graduates with hefty student loans"
The article focused on the cost of a journalism master's degree at well-known institutions like Northwestern University near Chicago and Columbia University in New York City – and the debt students are taking on to get those degrees.
Students in these programs are taking out loans with a median value in the mid-$50,000s to pay for a degree that costs around $70,000 (not counting fees and living expenses) to get a job that pays in the mid- to high-$40,000s, the newspaper reported.
The story prompted lots of chatter within the journalism circles I follow on Twitter. The overarching sentiment: A graduate degree in journalism isn't worth the time or the money, especially at expensive schools. Instead, students should concentrate on collecting as much real journalism experience as possible to land that first (or next) newsroom job.
As someone who directs a master's degree program in journalism, I feel the need to step in to say not all schools will bury you in debt to provide a graduate-level education that includes a guaranteed opportunity to get professional experience.
For 50 years, the Public Affairs Reporting master's degree program at the University of Illinois Springfield has produced three Pulitzer Prize winners and scores of other reporters covering the White House, statehouses and city halls throughout the country. In whatever city you're reading this in, there's a good chance a PAR alum or someone who knows a PAR alum is working in a nearby newsroom.
Our program gets students in and out quickly – in as little as 9 1/2 months. Five to six of those months are spent as a professional journalist working in the living laboratory of the Illinois Capitol building, covering the Illinois General Assembly and other functions of state government and politics.
PAR students' reporting appears in newspapers and on websites, wire services and broadcast stations throughout Illinois. The real-life journalism experience students get amid the high-stakes Statehouse environment proves to news managers that our students can hit the ground running on just about any assignment.
And added bonus: A PAR degree doesn't cost anything close to what those private schools charge.
Beyond the comparatively lower tuition rates we charge at UIS, every PAR student is guaranteed three additional cost-saving benefits:
A full tuition cost waiver during the spring and summer semesters
A monthly stipend paid during each month of the reporting internship
Scholarships provided by generous PAR alumni and friends
After adding up the tuition and fees and subtracting the waivers, stipends and a conservative scholarship estimate, a PAR degree costs around $5,500 for an Illinois resident and about $11,300 for an out-of-state resident. (That doesn't factor in books, living expenses or health insurance.)
With its multifaceted curricula and opportunities to learn how to report on an array of topics from locations across the country, master's degree programs at Northwestern, Columbia or any of the other higher-cost schools the WSJ analyzed will launch any graduate into a solid journalism career.
But what about still-green journalists who want the leg up in the job market a master's degree can provide but are unable to afford the tuition and/or be willing to bury themselves under a huge student loan? Unfortunately for them, graduate school is often out of the question.
There are many troubling facts about today's journalism industry – the broken economic model, hedge fund newspaper owners slashing the size of newsrooms, and rampant misinformation spreading across social media and drowning out facts. They all concern me.
But as someone who recruits and teaches the next generation of journalists, I worry the financial barriers put up by high-priced universities (not to mention some news organizations that pay too little – but that's a topic for later) will prevent students, especially those without financial means, from getting into journalism in the first place.
While PAR is already a cost- and time-efficient way to level up journalism credentials, I want to do more. Our program is backed by many alumni who pour into numerous scholarship funds that help PAR students. I hope to continue building onto that base of support, while also pursuing other philanthropic sources that share our desire to encourage people of all backgrounds to take on the important task of holding public officials accountable through intelligent, trustworthy journalism.
If you'd like to join us in that effort, please contact me. I'd love to talk to you.
Jason Piscia is an assistant professor and director of the Public Affairs Reporting program at the University of Illinois Springfield. He came to UIS following a 21-year career at The State Journal-Register.