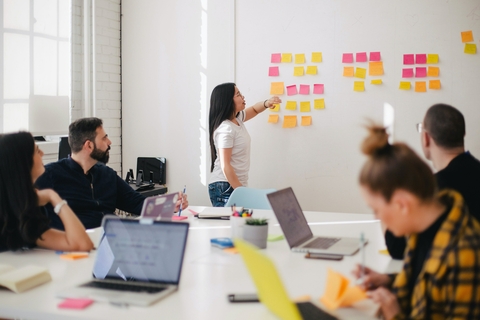 How do you define success? Do you want to lead and manage people and organizations? Have you chosen the best degree for your desired career path?
Most students know about the business administration degree, but few students know that there is another option—one that will open the door to a vast array of careers in public service. This other option is the public administration degree.
Public administration degrees prepare students to lead and manage the public (i.e., government) and the nonprofit sector. In contrast, business administration degrees focus on preparing students to lead and manage in the private sector. One of these options is not better than the other. They are just different. Do you understand the differences well enough to make an informed choice?
In recent years, more and more students interested in dedicating their life's work to higher purposes and serving the greater good have chosen public administration over business administration. Before you choose a management degree, here are a couple of questions should consider:
What is your passion? What are your career goals?
The main mission of most organizations in the public and nonprofit sectors is to provide for a better world and improve the lives of others. In contrast, the main mission of most organizations in the private sector is the generation of profit and the growth of shareholder wealth.[1]
Are you deeply passionate about a social issue or public problem? If so, the public and nonprofit sectors can provide you with a wide range of opportunities to make a tangible difference. For example, organizations in the public and nonprofit sectors are devoted to addressing local, regional, and global issues and problems related to poverty, climate change, social injustice, transportation, education, agriculture, healthcare, and many others.
Do you want to assume a role where success is measured by more than profit? Do you want a career devoted to tackling wicked problems and improving people's lives? If the answer to these questions is yes, then a career in public service supported by a degree in public administration may be the best option for you.
How are you motivated?
The public and nonprofit sectors tend to attract altruistic individuals who prioritize the needs of others above their own and who are motivated by the opportunity to serve the interests of their community. Although not absolute, this contrasts with the tendency of the private sector to attract individuals motivated by self-interests and organizational interests.[2]
Do you identify strongly with your community and feel an obligation to sacrifice your own interests for the good of others? Are you attracted to the policy process and institutions of government? Do you empathize with marginalized populations and want to fight against injustices?
If your answer to any of the above questions was yes, you are a good candidate for the mission-driven and service-oriented careers of the public and nonprofit sectors. Thus, a public administration degree is your best option.
What training, skills, knowledge, tools, and experiences will serve you best?
While both the business administration and public administration degrees are interdisciplinary and draw from similar areas of study (e.g., economics, finance, organization theory & behavior, and psychology), the two degrees are not interchangeable.
Public administration programs equip students with the hard and soft skills needed to lead and advocate for social change. Business administration programs tend to equip students with the hard and soft skills needed to succeed in economic markets.
Both degrees focus on making things happen in volatile, uncertain, complex, and ambiguous environments. But, in the context of public service, the standards of accountability, transparency, and equity demand a unique mix of knowledge, skills, and abilities that a business administration degree does not provide.
Do you now have a better understanding of the difference between a public administration degree and a business administration degree? Are you mission-driven? Do you want to pursue a career path to improve the lives of individuals and communities—serving the public interest? If the answer to these questions is yes, then the public administration degree may serve you best.
Public Administration @ the University of Illinois Springfield
If you're interested in management or leadership roles in public service—a meaningful career devoted to the service of others—you should explore the degree options offered by the nationally-ranked Public Administration Department at the University of Illinois Springfield. Located in Springfield, Illinois, the headquarters for most state agencies, the program offers opportunities for practical learning through its access to state government, historical sites, and a vibrant nonprofit community.
If you have questions, feel free to request more information or start your application today!
---
[1] Govloop article on MBA vs MPA: Which is best?
[2] Perry, J. L., Hondeghem, A., & Wise, L. R. (2010). Revisiting the motivational bases of public service: Twenty years of research and an agenda for the future. Public administration review, 70(5), 681-690.
---
Travis Bland is the Associate Dean of the College of Public Affairs and Administration and an Associate Professor in the Department of Public Administration. He studies, consults, and offers workshops on organizational health, strategic planning and execution, and the management of people. To learn more, contact him at jblan7@uis.edu.