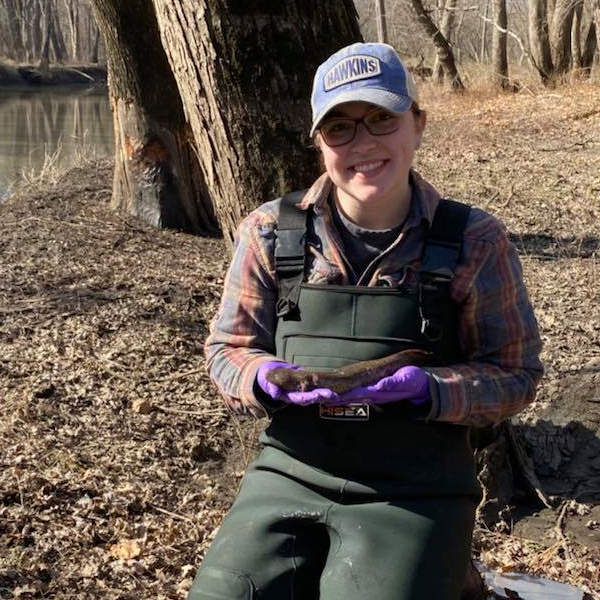 Marissa L. Jones
2021
Apprentice Gardener
M.S.- Environmental Planning & Management
Hometown: Girard, IL
Why did you choose this degree at UIS?
After earning my B.A. in Environmental Studies from UIS in 2019, I wanted to continue to explore my environmental interests. I chose this concentration because it offered opportunities to build and apply valuable skills, such as using Geographic Information System (GIS).
What is your experience like as a graduate student?
My experience as a graduate student and Graduate Public Service Intern (GPSI) at the Illinois Department of Natural Resources (IDNR) has been more rewarding than I ever imagined. I have been able to apply learned GIS skills to my current GPSI position at IDNR helping to map and record data that relate to endangered and threatened species, as well as natural areas, across Illinois. I am also grateful to have built personal relationships with professors due to the small class sizes and engaging course activities.
What do you plan to do with your degree?
I have recently accepted a position at Lincoln Memorial Garden, as the Apprentice Gardener for my first year, then will be taking over as the Head Gardener in May 2022. I am very excited for this opportunity and I am hopeful I can continue work with UIS through these new channels.
How is this program assisting you in reaching your goals?
This program has challenged me to explore my environmental interests. Partnered with the GPSI program, these two years at UIS have allowed me to build a strong environmental skill set suited for office work and outdoor tasks, form meaningful relationships with environmental stewards and partners alike, and most importantly, solidify my understanding of my personal and career interests.
Advice for future students?
My advice to future students is to take opportunities to explore their interests. I recommend enrolling in the graduate and/or GPSI program at UIS to take advantage of an unmatched opportunity to expand upon your current skill set, work in a government agency, and above all solidify your interests or future goals!