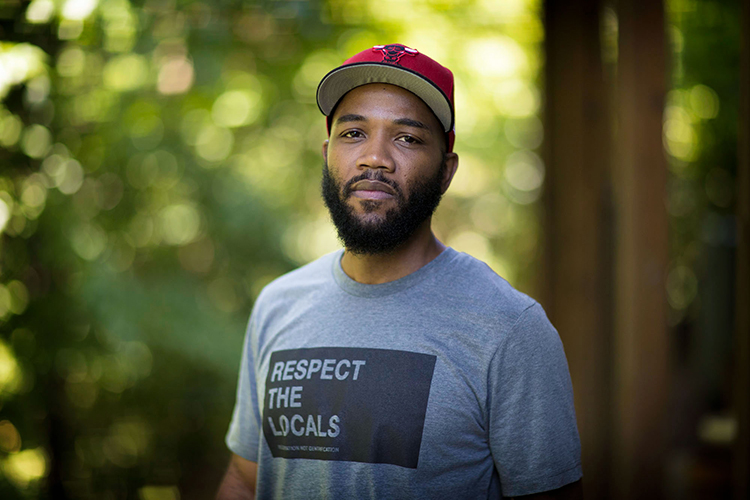 A.D. Carson
2008
Assistant Professor of Hip-Hop
English, M.A.
As the position [at the University of Virginia] is unique to both the university and in academia, it makes the work I create all the more meaningful that people have taken its challenges seriously. In 2020,  I released the first peer-reviewed rap album  ever published by an academic press: "i used to love to dream" (University of Michigan Press), which explored my hometown of Decatur, Illinois. The album was a Category Winner of a  Prose Award  from the Association of American Publishers. It was also awarded the  Research Achievement Award for Excellence in the Arts and Humanities from the University of Virginia. After the release of the album, I also posted a top-10 hit—"Ohana," a song written with Hawaiian reggae artist Akoni;  it reached No. 6 on the iTunes reggae downloads list in Dec. 2020.
"talking to ghosts," my most recent album, deals with especially pertinent issues surrounding mental health and the impact of living with the deaths of several close family members and friends from Covid and other health crises and from murder. The album covers the disruption and the time before, which was heavy for many people for many similar reasons. Written in the atmosphere of lockdown, amidst worldwide protests addressing deaths of Black people at the hands of police, Hip Hop music was one way to deal with the heaviness of it all.
In 2017, I earned a Ph.D. in Rhetorics, Communication and Information Design at Clemson University by  writing a rap albumtitled "Owning My Masters: The Rhetorics of Rhymes & Revolutions." While writing the album, I started the "See the Stripes" campaign to challenge Clemson administrators to create a more diverse, equitable, and inclusive environment for students, staff, and faculty, which eventually led to a nine-day sit-in and arrests of me and four undergraduate students and also brought those same communities together in support of those causes. That work was acknowledged with the Dr. Martin Luther King Jr. Award Excellence in Service from Clemson, and the album was awarded the Graduate Student Government's Outstanding Dissertation Award. When Clemson students took up similar work during the on-campus protests following the murders of George Floyd, Breonna Taylor, and Ahmaud Arbery, it was that work they  took up and cited  to encourage the board of trustees to change the name of Tillman Hall and the Honors College, the latter of which was successful. A mastered version of my dissertation album has been peer-reviewed and is under contract to be rereleased by an academic publisher, University of Michigan Press.