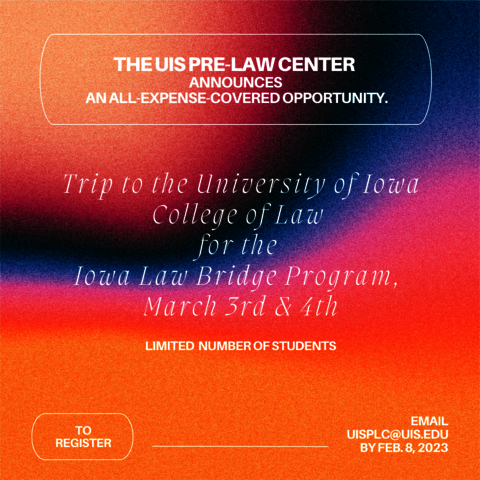 The UIS Pre-Law Center announces an all-expense-covered opportunity. Professor Deborah Anthony, Director of the Pre-Law Center, will provide transportation for a limited number of students to the University of Iowa College of Law for attendance in the Law Bridge 2023 program, scheduled for March 3rd and 4th. Meals and hotel will also be covered.
"The Bridge Program" is designed to introduce diverse students to law school. Students learn what it's like to be a law student, how to develop the strongest application possible, what a law school class is like (by taking a mock class), the best ways to write with clarity, and factors they should consider as they apply to law schools.
If you are interested in taking advantage of this opportunity, please respond via email to uisplc@uis.edu to register by February 8th. The UIS Pre-Law Center will confirm your registration for the event with a response email invitation to complete a qualtrics survey for the University of Iowa College of Law.