November Know Your U Event- Moon Party
Join UIS Human Resources and Chancellor Gooch on the roof of Brookens Library on Wednesday, November 30, 2022, from 7:00-9:00pm for the Know Your U Moon Party, where we will learn about the newly renovated UIS Campus Observatory and the famous UIS Star Parties!
This "Moon Party" will be led by Dr. John C. Martin, Associate Professor of Astronomy and Physics, and is an exclusive opportunity for UIS employees and their guests to learn about the UIS Campus Observatory and to see the moon during a peak time for viewing. If the skies are clear, we will also be able to view the stars! Registration will be required as the event will be limited to 50 people.
Note: If this event needs to be cancelled due to inclement weather, it will be rescheduled to December 6, 2022, from 7:00-9:00pm.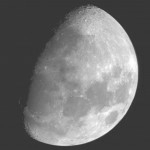 About Know Your U
Know Your U activities are intended to provide staff with ways to discover and experience the initiatives, research, academic programs, history, and infrastructure at UIS during their normal workday. Eligible staff are granted up to eight hours per academic year to participate in Know Your U activities during their normal workday.
Staff who are scheduled to work during the Moon Party event should obtain prior supervisory approval before attending or participating by using the Know Your U Time Request form. Staff who are not scheduled to work during the Moon Party are also welcome to register and attend, but they do not need prior supervisory approval nor do they need to use their Know Your U hours.
About UIS Star Parties
Since 1976, UIS Star Parties have welcomed over 50,000 people to the wonders of the universe. These events are one of the very few free science education programs for kids and families in Central Illinois. At a typical Star Party, visitors learn about galaxies, the sun, stars, and stellar evolution, as well as star and constellation identification prior to using the telescopes. Over the years, stargazers have seen many celestial objects through the telescopes, including the moon and planets, deep-sky objects such as the Orion Nebula and other fascinating star systems.
Start Date/Time
Wed, Nov 30, 2022 7:00 pm
End Date/Time
Wed, Nov 30, 2022 9:00 pm