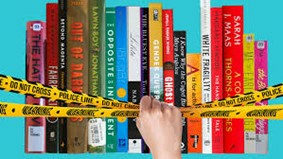 Dr. Pierceson is a leading scholar on LGBTQ rights. His book, Sexual Minorities and Politics, is the first textbook to provide a comprehensive overview of the historical, political, and legal status of sexual and gender minorities. For this reason, Sexual Minorities was placed on the Navy's Professional Reading List in 2021. However, the Navy removed Sexual Minorities from the list in 2022, along with other books about race, gender, and sexuality like Ibram X. Kendi's How to Be an Antiracist and Michelle Alexander's The New Jim Crow. Dr. Knox is an expert on intellectual freedom and is the author of Book Banning in 21st Century America, which explores the reasons why people attempt to censor books in schools and public libraries. Together, Dr. Pierceson and Dr. Knox will explore the impetus behind and implications of the Navy's removal of Sexual Minorities and other titles from its reading list in 2022.
Jason Pierceson received his Ph.D. in Politics from Brandeis University and is a Professor in the School of Politics and International Affairs at UIS. He is the author or co-author of seven books and an encyclopedia on LGBTQ politics. His commentary has appeared in such media outlets as NPR, Reuters, The New York Times, The Washington Post, PolitiFact, The Associated Press and NBC News. He has also served as an expert witness in federal civil rights litigation.
Emily Knox received her PhD from the Rutgers University School of Communication & Information and she is an Associate Professor at the University of Illinois. Her book, Book Banning in 21st Century America, aims to contextualize and help us understand the motivations of people who ban books. Emily's articles have been published in the Library Quarterly, Library and Information Science Research, Open Information Science, and the Journal of Intellectual Freedom and Privacy.
Co-sponsored by the UIS School of Politics and International Affairs
Location
Brookens Auditorium