Black Futurez: Mixtape, Side 1 - Our Stage / Our Voices
November 18, 2022 7:30 PM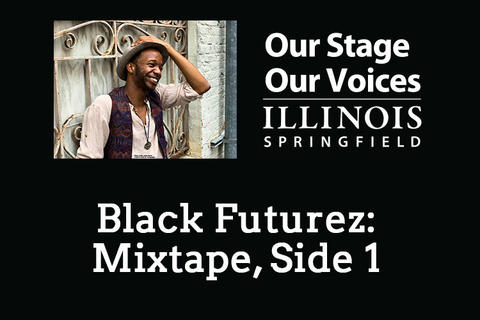 You are invited to experience the music of emerging Black artists and witness a new creative work in progress! Following performances by local musicians, Our Stage / Our Voices artist-in-residence Reggie Guyton will lead the performers in a brief discussion. The event will culminate in a preview of some of the spoken word and musical work Mr. Guyton has been developing during his residency at UIS.
Weaving mythical lore, parable, and personal experience, the unfolding narrative of Black Futurez: Mixtape can best be described as a compilation of ideas and emotions from Black youth living through current times. Featuring creator Reggie Guyton alongside special artists and musician guests, you'll get a sneak peek of this evolving work.
Thank you for supporting Our Stage / Our Voices, a program of the UIS Performing Arts Center in which the voices of historically underrepresented communities in the performing arts are amplified, with a goal of achieving diversity and inclusion.
About the Show
Tickets:
$15
Reserved Seating
UIS Studio Theatre
Location
UIS Studio Theatre
Start Date/Time
Fri, Nov 18, 2022 7:30 pm
End Date/Time
Fri, Nov 18, 2022 9:30 pm