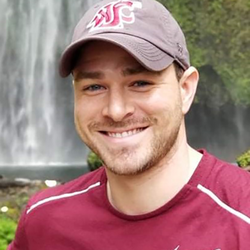 Department(s):
School of Integrated Sciences, Sustainability, and Public Health
Title(s):
Assistant Prof.
Area of Specialization
ecohydrology

water resource management
Office Location
MS PAC 326
Scholarly Interests
ecohydrology; socio-hydrology; water resource management; cities; urban heat; land-atmosphere interactions; remote sensing; hydrologic and microclimate modelling
Biography
Academic and Personal Background
Dr. Blount is a socio-ecohydrologist who is interested in the interactions between hydrology (water), ecology (vegetation), and society (people). Dr. Blount joined the faculty at UIS in Fall 2022 after completing a postdoctoral research appointment in urban ecohydrology at Washington State University Vancouver. They received a Ph.D. and M.S. in Hydrology from Colorado School of Mines (2020; 2018) and a B.S. in Environmental Geosciences from Texas A&M University (2013). When not working, they enjoy spending time with their dog, running, CrossFit, outdoor recreation, and visiting coffee shops and breweries.
Research Activities
Dr. Blount's research focuses on the interactions between hydrology, ecology, and society in the contexts of wildfire and urban development. They employ a variety of methods including remote sensing, modeling, and field data collection to monitor, understand, and predict environmental dynamics in these systems. Their recent work examines how urban development affects the movement of water and heat within cities with the goal of promoting equitable and sustainable water resource management and urban development. Dr. Blount has published in journals including Case Studies in the Environment, Ecohydrology, Water Resources Research, and Landscape and Urban Planning, frequently reviews for several journals in hydrology and the environmental sciences, and currently serves as an Associate Editor in Urban Hydrology for the Journal of Hydrology.
Service and Outreach Activities
Equity and inclusion are among Dr. Blount's core values and are central considerations in all aspects of their work. Dr. Blount consistently strives to take meaningful action to support minoritized students and colleagues and make the spaces in which they operate more just, equitable, and inclusive. At UIS, Dr. Blount is an active member of the Safe Zone/Brave Space Planning Committee and the Chancellor's Committee for Belonging, Dignity & Justice. They also plan to pursue opportunities to promote pathways for underrepresented students into the environmental and earth sciences.
Information for Prospective Students
Dr. Blount is interested in working with M.S. and undergraduate students who are curious about exploring any aspect of water resources and urban development including physical hydrology, water quality, water management and governance, and the role of water in ecosystem functions. They are also open to any other exciting projects in the realm of physical environmental sciences or those that use quantitative and innovative data analyses. Dr. Blount's first M.S. advisee is working on a project to model and characterize groundwater transport of Per- and Polyfluorinated Substances (PFAS) in a Northern Illinois community. They enjoy providing support and mentorship to students for individual development, whatever their individual career aspirations, including employment in the public, private, or academic sectors. Interested students should contact Dr. Blount via email (wblou2@uis.edu), and you can find updated postings of funded opportunities on the News page of my Website or on Twitter.
Courses Taught
Dr. Blount primarily teaches classes that focus on water resources, physical environmental sciences, and environmental methods. These include ENS 466/467 Ecohydrology and Ecohydrology Lab, ENS 551 Environmental Natural Sciences, ENS 543 Environmental Data Analysis with R, and ENS 404 Fundamentals of Geographic Information Systems. In the future, Dr. Blount plans to develop courses that cover Water Quality and Watershed Management, Water Resources and Society, and Physical Environmental Geography.
Selected Publications
Blount, K., G. Pignotti, and J. Wolfand. ET cool home: Exploring evapotranspiration and heat in cities in undergraduate laboratories. In preparation, 2023.
Blount, K. and K. Moffett. Assessing the role of proximity to cool land covers and advective cooling on urban land surface temperature at the city scale. In preparation, 2023.
Blount, K. and T.S. Hogue. The role of urban redevelopment in closing the water supply gap in Denver, CO. In preparation, 2023.
Kubinec, K.*, K. Moffett, and K. Blount. Prediction of summer urban air temperatures from high-resolution land cover data and ground-based thermal imaging of residential streetscapes. In review, 2023.
Blount, K., R. Abdi, C.L. Panos, N.K. Ajami, and T.S. Hogue (2021). Building to conserve: Quantifying the outdoor water savings of residential redevelopment in Denver, Colorado. Landscape and Urban Planning, 214. doi: 10.1016/j.landurbplan.2021.104178.
Blount, K., J. Wolfand, C.D. Bell, N.K. Ajami, and T.S. Hogue (2021). Satellites to sprinklers: Assessing spatiotemporal patterns of outdoor water use using remote sensing. Water Resources Research. doi: 10.1029/2020WR027587.
Blount, K., C.J. Ruybal, K.J. Franz, and T.S. Hogue (2020). Increased water yield and altered hydrologic partitioning follow wildfire in a forested catchment in the western U.S. Ecohydrology. doi:10.1002/eco.2170.
Blount, K. and A. Kroepsch (2019). Adventures in Post-Wildfire Watershed Management: Improving Water Resources Resilience in Colorado. Case Studies in the Environment. doi: 10.1525/cse.2019.sc.960306.
Blount, W.K. (2013). Future Flooding in Houston: Modeling the Impacts of Climate and Land Cover Change on Hydrology in the Buffalo-San Jacinto Watershed. Texas A&M University Honors and Undergraduate Research. Available electronically from http://hdl.handle.net/1969.1/154891.
*Undergraduate student author
Additional Links and Contact Information
Academic Website: https://kyleblount.weebly.com/
Twitter: @hydro_kyleb
Google Scholar Profile: https://scholar.google.com/citations?user=1LndTtUAAAAJ&hl=en&oi=ao
Updated: 29 March 2023
Research
ecohydrology

socio-hydrology

water resource management

urban environments and urban heat

land-atmosphere interactions

remote sensing

hydrologic and microclimate modelling
Involvement
Chancellor's Committee on Belonging, Dignity, and Justice
Safe Zone/Brave Space Planning Committee
Teaching
Courses taught or planned:
ENS 251 - Introduction to Environmental Sciences
ENS 404 - Fundamentals of Geographic Information Systems
ENS 465 - Water Resources and Society
ENS 466 - Ecohydrology
ENS 467 - Ecohydrology Lab
ENS 543 - Environmental Data Analysis with R
ENS 551 - Environmental Natural Sciences
Editorial Boards
Journal of Hydrology, Associate Editor (Urban hydrology; Ecohydrology)