Canvas as a platform is accessible to assistive technology users, but the content created within Canvas is not inherently accessible. Being web-based, Canvas content follows the same accessibility considerations as detailed on the Accessible Documents and Websites page. Canvas pages within a course should be checked for accessibility compliance with the built-in checker when creating content, or with UDOIT to evaluate the whole course.
Writing Accessible Content
When composing page content in the rich content editor, be sure to pay attention to the notification badge on the accessibility logo below the editor. This will notify you of any accessibility issues and help you to address them as you create your content. More information, including details on what rules the checker uses, are available on the Canvas Instructor Guide's page, How do I use the Accessibility Checker in the Rich Content Editor.

Checking Your Course with UDOIT
UDOIT is a tool for checking the accessibility of your course as a whole. It checks for the same types of issues as the RTE accessibility checker but runs on all your pages at once. To scan your course, click on UDOIT in your course navigation, set the scope by checking the appropriate boxes for what you'd like scanned, and click Scan This Course.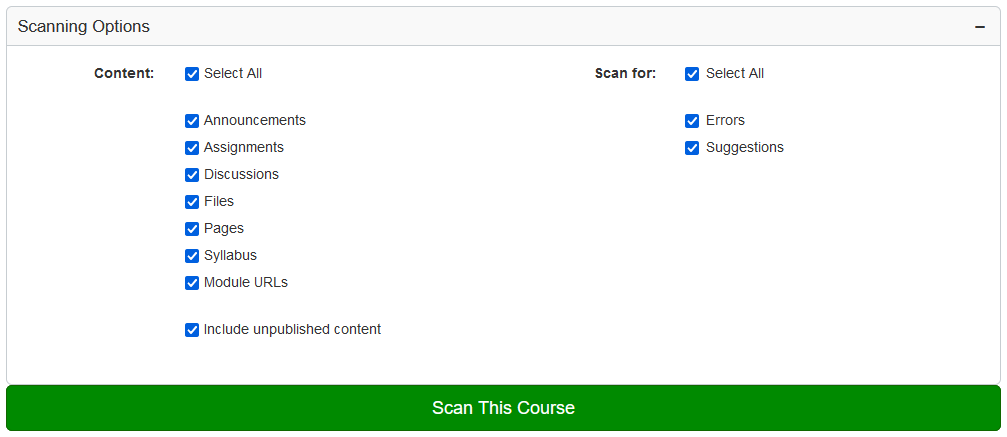 After it scans the course, it will present a summary of all of the errors and suggestions found by the tool. On the left hand side of this report screen, the specific areas of the course that had issues will be listed. Clicking on one of these will display a list of the specific issues that were found. Each issue will have a description of the problem, a link that will direct to the source of the issue, and a U Fix It button if appropriate. Some issues require more human evaluation than the tool is capable of, so these will have to be corrected manually using the information provided.