To ensure preparation and implementation concerning the impact of the Firearms Concealed Carry Act as related to our campus and community….
UIS PD
Chancellor's Office
Provost Office
Legal Counsel
Human Resources
Facilities
Dean of Students
Counseling Center
Definition Concealed Firearm
The Act defines a "Concealed Firearm" as a loaded or unloaded handgun carried on or about a person completely or mostly concealed from view of the public or on or about a person within a vehicle.
 
Unlawful Use of Weapons
The Act does not change the current UUW statute (720 ILCS 5/24-1).  It is not legal for felons to possess weapons.  It is not legal for a current FOID card holders to carry concealed without a Concealed Carry License.
 
Prohibited Areas
Public or private elementary or secondary school.
Pre-school or child care facility.
Area controlled by an officer of the executive or legislative branch of the government.
Circuit Court, Appellate Court or Supreme Court buildings
Unit or local government buildings.
Adult or juvenile detention center or jail.
Public or private hospital, hospital affiliate, nursing home or mental health facility.
Bus, train or transport (paid with public funds) and property
Building, real property or parking area of establishments that serve alcohol, if more than 50% of the gross receipts in the past three months are from alcohol sales.
Public gathering or special event open to the public that requires issuance of a permit from a unit of local government.
Property issued a Special Event Retailer's license under the Liquor Control Act.
Public playground.
Public park, athletic area or athletic facility under the control of a municipality or park district.
Cook County Forrest Preserve.
Building, classroom, laboratory, medical clinic, hospital, artistic venue, athletic venue, entertainment venue, officially recognized university-related organization property and any real property, including parking areas, sidewalks and common areas under the control of a public or private community college, college or university.
Property under the control of a gaming facility licensed under the Riverboat Gambling Act or Illinois Horse Racing act, including inter-track wagering locations.
Any stadium, arena or real property or parking area under the control of any stadium, arena, collegiate or professional sporting event.
Public library.
Airport.
Amusement park.
Zoo or museum.
Nuclear energy, storage, weapons or development site by the federal Nuclear Regulatory Commission.
Area(s) prohibited under federal law.
 
Private Property Owners
The owner of private real property may prohibit carrying concealed handgun on the property under their control, if the property is a private residence OR if the correct signage is posted.

However, a licensee may still carry a concealed handgun within a vehicle into the parking areas of such property and store a handgun or ammunition concealed in a case within a locked vehicle or in a locked container out of plain view.
Concealed Carry - Intoxicated
A Licensee shall not carry a concealed firearm while under the influence of alcohol, other drugs, intoxicating compounds or any combination thereof, under the standards set forth in 626 ILCS 5/11-501 (DUI statute).
Class A Misdemeanor for 1st or 2nd violation.  Class 4 Felony for 3rd violation.
Signage
Signs stating that the carrying of firearms is prohibited shall be clearly and conspicuously posted at the entrance of a building, premises, or real property specified as a prohibited area, unless the building or premises is a private residence.  Signs shall be uniform design as established by the Department and shall be 4 x 6 inches in size.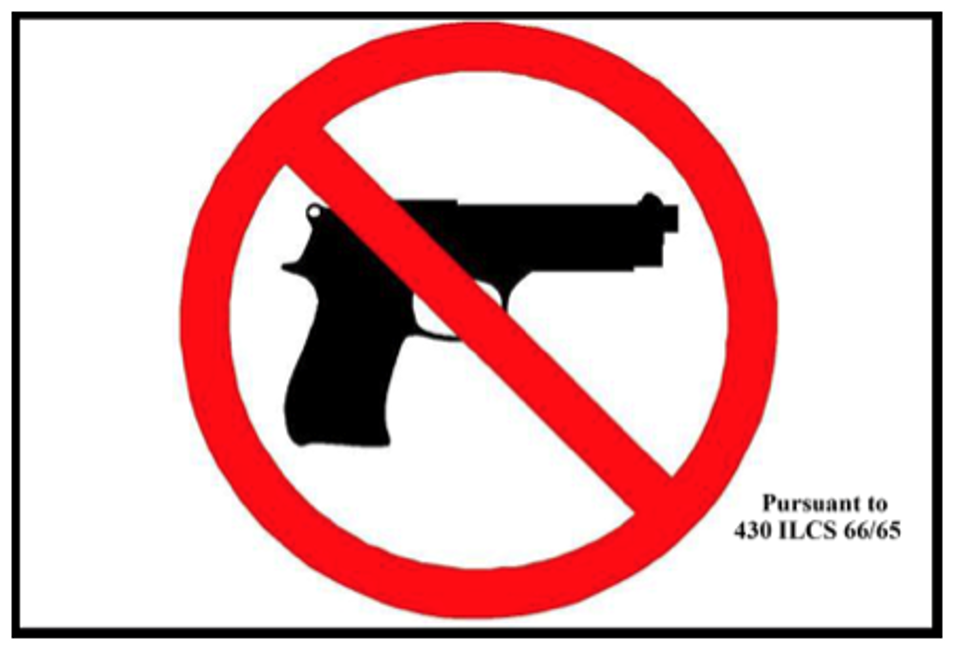 University May..
Prohibit carry within a vehicle owned, leased, or controlled by the university;
Develop resolutions, regulations or policies regarding student, employee or visitor misconduct and discipline, including suspension and expulsion;
Designate areas where persons can park vehicles that carry firearms;
Permit for the purpose of instruction and curriculum of officially recognized programs, including but not limited to military science and law enforcement training programs, or in any designated area used for hunting purposes or target shooting.