The University of Illinois Springfield held a Faculty Honors Reception on Tuesday, May 3, 2022. Interim Chancellor Karen Whitney and Vice Chancellor for Academic Affairs and Provost Dennis Papini presided over the ceremony.
Four major awards – the Pearson Faculty Award, the Spencer Faculty Service Award, the Faculty Excellence Award and the Burks Oakley II Distinguished Online Teaching Award - were presented.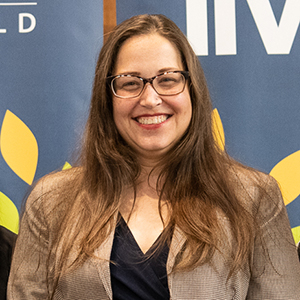 The Pearson Faculty Award for outstanding teaching was presented to Kristi Barnwell, associate professor of history. The award recognizes a faculty member whose performance exemplifies UIS' commitment to excellence in teaching and who stands among the very best teachers on campus. Such a teacher both informs and inspires students, giving them the knowledge and values with which they may become productive and enlightened citizens. The award was established by a gift from Emmet and Mary Pearson, longtime benefactors of the campus.
Barnwell teaches a diversity of courses on modern Middle East, the Arabian Peninsula and Persian Gulf, Arab nationalism and identity and gender. In her classes, she successfully encourages active reading and critical thinking, and is consistently commended by students and colleagues for the rigor of her classes, skillful classroom management, and the clear, thoughtful and creative ways that her classes are structured. Barnwell has mentored peers, as well as students: overseeing honors projects, writing letters of recommendation and serving as adviser to student organizations. Barnwell is known for her dedication to her students, and for the creativity, conscientiousness and intellectual curiosity of her pedagogy.
The Spencer Faculty Service Award was given to Deborah Anthony, professor of legal studies. Honoring Robert Spencer, founding president of Sangamon State University, this award recognizes faculty who best exemplify the ideal of the "professor-citizen" through public service and service to the academic community.

Anthony has demonstrated excellence in all areas of service, and especially to the immigrant community. One outstanding example is that in 2018, Anthony, a licensed attorney, traveled to Dilley, Texas to work with the CARA Family Detention Pro Bono Project, where she represented asylum seekers and their children who were detained at the federal South Texas Family Residential Center. As part of that work, she prepared women and children seeking asylum for their initial credible fear interviews. Students she later involved in this project described their experiences as "life changing." As a result of this work, Anthony was asked to join the local Springfield Immigrant Advocacy Network (SIAN).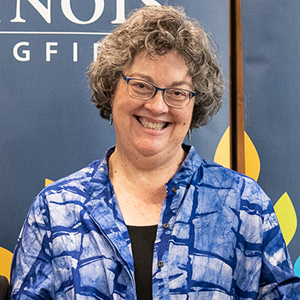 The Faculty Excellence Award was presented to Lynn Fisher, professor of sociology/anthropology. The award recognizes mid- and late-career colleagues who best exemplify the ideal of the teacher-scholar and whom faculty recognize as role models, based on sustained accomplishments in teaching and scholarship at the University of Illinois Springfield. The award is funded through the generosity of Wilbur and Margaret Wepner.
In her twenty-one years at UIS, Fisher has demonstrated sustained excellence in teaching and scholarship, which was recognized with a University Scholar Award in 2006. She has taught 12 courses, from archaeology and biological anthropology, an SOA core course, an upper-division elective and a Study Abroad Archaeological Field Course in Germany. Fisher has been described as a "remarkable teacher" who highly motivates her students.
Her scholarly work in archaeology is equally exemplary, with 11 scholarly contributions: five journal articles, two newsletter articles, two book reviews and two chapters awaiting publication. Fisher's research in how the quarry would have been used from the Early to Middle Neolithic was considered "ground breaking" by an expert in her field.
Youngjin Kang, assistant professor of human services in the UIS School of Public Management and Policy, was honored with the Burks Oakley II Distinguished Online Teaching Award. The award was established by Burks Oakley II, who helped launch UIS' online programs. The Oakley Award recognizes UIS faculty members whose performance exemplifies the institution's commitment to excellence in online teaching.

Prior to the pandemic, Kang taught courses mainly in on-ground and blended formats. Since the pandemic, she has taught nearly 20 online courses. Her syllabi provide measurable course objectives, and her course modules are well-organized and arranged. She uses active learning techniques in her classes, such as role-playing, interviewing and generating a treatment plan based on an interview. Kang provides assignment guidelines and grading rubrics at the beginning of the semester, as well as timely and personalized feedback to students. Over the years, Kang has received excellent cumulative student course evaluation ratings.
Other awards:
Five new awards were also presented to faculty this year, including the Faculty Engagement Award, Early Career Scholarship Award, Adjunct of the Year Award, the Faculty Diversity & Inclusion Award and the Scholarly Impact Award.
The Faculty Engagement Award was presented to Sahar Farshadkhah, assistant professor of management information systems. The award recognizes faculty leadership and teaching that creates fruitful engagement and collaboration within the community, building connections between their classrooms and the broader communities. Through her teaching and scholarship, Farshadkhah successfully engages students and delivers value to the local business community. Together with her students in MIS 584, they have analyzed Cybersecurity threats to a local business and offered comprehensive advice and practical recommendations to improve Cybersecurity.
The Early Career Scholarship Award was presented to Meghan Kessler, assistant professor of teacher education in the School of Education. The award recognizes leadership, accomplishments, and excellence in scholarship activities of pre-tenure faculty. This includes traditional notions of the scholarship of discovery, as well as the scholarship of application and integration. Kessler's research includes investigating teachers' experiences during the implementation of a multi-tiered reform to reduce disciplinary disparities for students of color, and issues such as implementation of the Culturally Responsive Teaching and Leading Standards and pandemic implications for teacher retention. Since coming to UIS in 2018, she has published 18 peer-reviewed journal articles and book chapters, eight as sole author, and five as first author.
Jodi Hallsten Lyczak was the recipient of the Adjunct of the Year Award. The award recognizes the teaching accomplishments of a UIS adjunct faculty member who has taught a minimum of four semesters in the previous three years at UIS. Hallsten Lyczak has taught at UIS for the past three years to meet the Communication Department's needs in gender and organizational communication courses. She considers herself "a pedagogical ninja who is continually improving, tweaking, creating and recreating learning experiences for students that are innovative, relevant to their lives and current." Hallsten Lyczak has also adopted an altruism-directed pedagogy by communicating compassion and appreciation to students and providing clear and frequent instructions and comments on their assignments.
The recipient of the Faculty Diversity & Inclusion Award was Hinda Seif, associate professor of sociology & anthropology and women & gender studies. The award recognizes faculty leadership, accomplishments, and excellence in professional activities that contribute to the institutional mission of increasing diversity, equity, and inclusion, counteracting inequality and inopportunity, and contributing to struggles for inclusion of minority, marginalized, and/or historically under-represented groups. Seif has worked towards diversity in her service, teaching and scholarship responsibilities since coming to UIS in 2007. Her contributions to creating, developing and running racially and culturally inclusive programming have included: convening, leading and serving on the Black History Month Ad Hoc Committee, bringing programs to UIS through the ECCE Speaker Series and organizing a diverse range of events for Black History Month, Women's History Month and Hispanic Heritage Month.
Meg Cass, associate professor of English and Modern Languages, earned the Scholarly Impact Award. The award recognizes leadership, accomplishments, and excellence in scholarship activities of tenured faculty. This includes traditional notions of the scholarship of discovery, as well as the scholarship of application and integration. Focusing on issues of gender, athletics, place, embodiment and their intersections, Cass' scholarship has been awarded the 2017 Katherine Anne Porter Prize and was a finalist for the Phillip McMath Post-Publication Book Award. Cass' stories have appeared in 39 peer-reviewed publications with an acceptance rate of less than 5%. A most recent publication, "Whirlpool" is forthcoming in Foglifter, an award-winning journal dedicated to LGBGTQIA+ writing.
Tenure, promotions and sabbaticals announced
Faculty recommended for tenure include:
Matthew Brown, accounting, economics, & finance
Brandon Derman, environmental studies
Jennifer Martin, education
Neetu Singh, management information systems.
Recommended for promotion to full professor were:
Tena Helton, English & modern languages
Elizabeth Kosmetatou, history
Ali Nizamuddin, politics & international affairs
Missy Thibodeaux-Thompson, art, music, & theatre
Marcel Yoder, allied health.
Faculty members nominated for emeritus status were:
Heather Dell, women and gender studies
Michael J. Lemke, biology
Sabbatical leaves have been recommended for:
Atul Agarwal, management, marketing, & operations
John Barker, philosophy
Elham Buxton, computer science
Egbe Egiebor, public health
Stephanie Hedge, English & modern languages
Stephen Johnson, chemistry
Elizabeth Kosmetatou, history
Michael Murphy, women & gender studies
Ali Nizamuddin, politics & international affairs
Beth Ribarsky, communication
Lucas Vespa, computer science
All promotion, tenure, sabbatical leave, and emerita/emeritus status recommendations are subject to approval by the University of Illinois Board of Trustees.