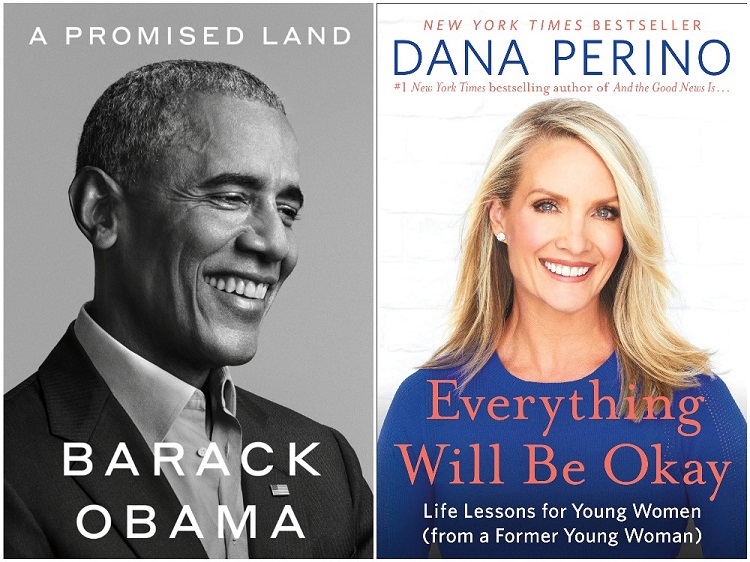 Being the politics nerd and longtime Springfield resident that I am, I'm always interested when well-known political figures offer their impressions or memories of our capital city.
Two books I've read over the last few months include the Springfield recollections of two people on the national stage – President Barack Obama and former White House press secretary and current Fox News host Dana Perino.
The first volume of Obama's memoir, "A Promised Land" (Crown, 2020), includes a few anecdotes from his time in Springfield as a Democratic state senator.
My favorite Capitol-related passage recalls a conversation Obama had on the Senate floor with James "Pate" Philip, then-president of the Republican-controlled chamber.
In Chapter 2, Obama writes that he spoke against a Republican-backed bill that was "a blatant tax giveaway to some favored industry."
After Obama concluded, Philip wandered over to Obama's desk.
"That was a hell of a speech. Made some good points," Philip told Obama. "Might have even changed a lot of minds. But you didn't change any votes."
Philip then signaled to open voting on the bill and watched with satisfaction as the Senate scoreboard lit up with green "yes" votes.
Obama then explained a reality that avid Statehouse watchers know:
"That was politics in Springfield: a series of transactions mostly hidden from view, legislators weighing the competing pressures of various interests with the dispassion of bazaar merchants, all the while keeping a careful eye on the handful of ideological hot buttons – guns, abortion, taxes – that might generate heat from their base."
As a journalist, I feel some pain after reading the next two sentences:
"It wasn't that people didn't know the difference between good and bad policy. It just didn't matter. What everyone in Springfield understood was that 90 percent of the time the voters back home weren't paying attention. A complicated but worthy compromise, bucking party orthodoxy to support an innovative idea – that could cost you a key endorsement, a big financial backer, a leadership post, or even an election."
Voters aren't paying attention 90 percent of the time? I shudder to think what the percentage is today given the smaller number of journalists keeping an eye on government compared to when Obama was a state senator. As a citizen, it's even more disheartening to know politicians count on you to not pay attention so they can do things in Springfield that keep their campaign accounts full and their election winning streak alive.
I ran across another mention of Springfield in Perino's new book, "Everything Will Be Okay: Life Lessons for Young Women (from a Former Young Woman)" (Twelve, 2021).
Perino was a student in the UIS Public Affairs Reporting Class of 1994-1995. In Chapter 2 of her book, she writes about the shock and embarrassment she and others in her class felt when they all failed their first writing assignment.
I sent that passage to Charlie Wheeler, who served as PAR director from 1993-2019. He believes the assignment everyone bombed was his traditional first-day-of-school pop quiz about current events and Illinois government facts.
I whiffed on that quiz on my first day as a PAR student in 1997. I've also continued giving the quiz now that I direct the program, and the results remain underwhelming. But the exercise remains an effective way to remind our new graduate students that following the news, especially what's happening under the Capitol dome, needs to quickly become a healthy helping of their media diet.
Perino also goes on to write that her PAR internship (during which she reported for WCIA-TV) helped her realize that her dream of becoming a local TV news anchor actually wasn't for her. While she liked covering political news, Perino said she struggled with other stories, like covering tornado damage and a visit by country star Garth Brooks to the Jacksonville manufacturing plant that made his CDs.
After UIS, Perino went back to her parents' house in Colorado to figure out what was next. She eventually found herself getting hired as a Washington, D.C.-based assistant for a Republican Colorado congressman. She continued to work her way up in Washington before being named White House press secretary by President George W. Bush in 2007. She served in that role until the end of the Bush administration in 2009. Later in 2009, she moved to Fox News, where she still appears as a commentator and co-host of "The Five" on weekday afternoons.
__________
Jason Piscia is an assistant professor and director of the Public Affairs Reporting program at the University of Illinois Springfield, who came to UIS following a 21-year career at The State Journal-Register (SJ-R).