Andrew Adams graduated this month from UIS with a master's degree that also gave him a fantastic internship experience.
"I grew up in Illinois. I went to high school during the budget impasse, that was a conversation every day," Adams said. "The state Capitol has always loomed large in my life. I wanted to see the nuts and bolts, and contribute to the conversation about it."
He got to do just that by enrolling in the University's famed Public Affairs Reporting program, which provides students with a master's degree and a six-month internship reporting on what goes on beneath the Capitol dome.
"It was everything and more than what I hoped for. It's a fantastic experience," Adams said of PAR.
His experience was made easier by being awarded funds from several private scholarships established for students in the PAR program. He received funds from: the James Armstrong Scholarship, the PAR Illinois Legislative Correspondents Association Scholarship in honor of Burnell A. Heinecke, the Douglas H. Pokorski Scholarship, and the Thom M. Serafin Scholarship.
"Those scholarships paid my rent. They made the whole financial situation a lot easier," Adams said. "I was able to focus on the actual program instead of worrying as much about bills and rent and car and all that. It was instrumental to making it a smoother process."
Creating scholarships is always a top priority for UIS. During Reaching Stellar, the fundraising campaign that runs through June 30, more than $8 million has been gifted to the University that has funded 75 new scholarship funds. Hundreds of students have already benefited from the generosity of those donors, and thousands more will in the future.
"We are so excited to have these opportunities to utilize scholarships to help attract the best possible students who are interested in pursuing their educational opportunities here, and then to also retain those students," said Jeff Lorber, the Vice Chancellor for Advancement for UIS and Senior Vice President for the University of Illinois Foundation.
"The costs for college education continue to rise," Lorber continued. "It presents increasing challenges for students and their families and we hope that this is a way we can alleviate some of those fears and concerns."
That was certainly the case for Stephanie Bounds. The Springfield resident graduated this month and has a job lined up as a special education teacher starting in August. She received at least four private scholarships – the American Association of University Women - Wanda Chapel Scholarship, the Anna May and Charles C. Smith Sr. and Jr. Scholarship, the Hockenyos Family Scholarship and the Martha Schiebel Harrison Scholarship - during her time as a student at UIS, which she said were a huge help.
"As a working mother, the scholarships helped take a huge burden off of me financially, especially when it came time for student teaching because I had to take an unpaid leave of absence," she said. "Without the scholarships, things would have been much harder for my family and me financially."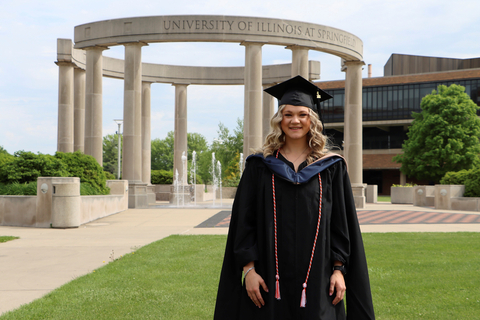 Aimee Rabeler also benefited from the generosity of scholarship donors. She received her undergrad degree in 2020 and her Master of Business Administration in December 2021, which also included an internship at the Abraham Lincoln Presidential Library and Museum through the Graduate Public Service Internship Program. That in turn helped her land her current job, as the events and local leasing coordinator for Hawthorn Mall in Vernon Hills.
"Private scholarships helped me so much during my studies at UIS," she said.
She received the Evelyn Brandt Thomas Scholarship, the Howard Humphrey Global Experience Scholarship, the Naomi and Robert Lynn Distinguished Capital Scholars Scholarship, and the SSU Alumni Association Scholarship. The Humphrey scholarship allowed her to travel to England for a study abroad experience.
"I had never been outside of the United States before. I felt so lucky for the opportunity and wouldn't have been able to go if it weren't for the scholarship," Rabeler said.
The scholarships allowed her more time to pursue other opportunities, like extracurricular activities, since school became more affordable.
"In grad school the scholarships helped me afford my townhouse that I was living in, and paid for books and supplies," Rabeler said. "Had I not had the scholarships I would have had to work more through my second job and had less time to devote to studying."
The recipients of scholarships said they hoped their benefactors know how important they were in their educational journeys.
"I hope they understand that, sometimes scholarships get depersonalized, but I would hope that they understand, at the student level, they can be really meaningful and incredibly valuable," Adams said.
"If given the chance to talk to the donors of my scholarships I received I would say thank you so much," Rabeler added. "The scholarships helped me to get the best possible experience I could at UIS and for that I am forever grateful."